Data Analysis
Updated Commercial Printing and New GDP Data
By Dr. Joe Webb
Published: August 17, 2017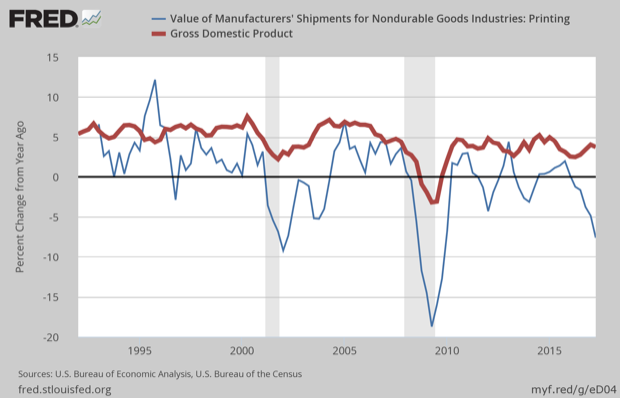 The Bureau of Economic Analysis released the Q2-2017 GDP data and revisions to historical data beginning with 2014.
Back in mid-May, the Commerce Department updated historical commercial printing shipments (NAICS 323) as part of its manufacturing shipments revisions.
This week's chart shows an updated view of both data series in current dollars (sometimes called "nominal;" both terms mean that data are not adjusted for inflation). The red line is year-to-year growth rate in GDP, and the blue line is year-to-year change in quarterly shipments.
Since around 1997 printing shipments have not met GDP growth except for a moment between 2010 and 2015. The most recent printing shipments trend at the right of the chart are remarkable for their direction.
A discussion of the GDP revisions and the current status of printing shipments can be found in the column of August 7.