Industry Insight
Learn from the Winners: Patient News Publishing, Environmental Sustainability and Your Community, 2009
Patient News Publishing (Haliburton ON) was the winner of the 2009 WhatTheyThink Environmental Innovation Award for Environmental Sustainability and Your Community, which recognized a company that is involved in an environmentally progressive community program.Alice Miller, IT Director, tells about her company's programs that support both the environment and the community.
By Gail Nickel-Kailing
Published: October 10, 2010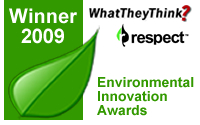 . In Partnership with:
Co-sponsored b

y:
. .

On the 39
th
Anniversary of Earth Day, April 22, 2009,
WhatTheyThink
announced the winners of the
2009 WhatTheyThink Environmental Innovation Awards,
given in partnership with
Unisource Worldwide, Inc.
and the
Unisource respect™ Printers' Program
. The
Environmental Innovation Awards
recognize companies that are making real and concrete contributions to innovation, implementation, and communication of environmental solutions. Five awards were presented to industry leaders who have developed environmental solutions within the design, production, and delivery value chain for printed graphic communications. Our 10-week series -
Learn from the Winners
- introduces each of the winners of the Environmental Innovation Awards for 2009 and 2010 and highlights their award-winning programs and initiatives. By the end of the series, we will have described real and concrete innovation, implementation and communication of environmental solutions, and you will have a checklist for a lean, green, and sustainable printing company.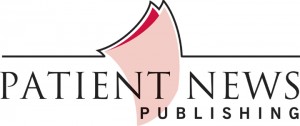 Patient News Publishing
, Haliburton ON, was the winner of the
2009 WhatTheyThink Environmental Innovation Award for Environmental Sustainability and Your Community,
which recognized a company that is involved in an environmentally progressive community program; that is, a company that is doing something for either their staff or the community at large. 
Alice Miller,
IT Director,  tells about her company's programs that support both the environment and the community. Patient News Publishing is one of the largest private employers located in Haliburton, Ontario. The company recognized that there was an opportunity to provide leadership to the community and that our environmental practices could be cascaded to other businesses in Haliburton County.
Catching Green
As we are located in central Ontario and Cottage Country, most businesses in the area are quite small and entrepreneurial, as such a small business does not have the resources to research and implement green initiatives.  We also realized that as full time residents (5,000) people we had the opportunity to be the custodians of our Environment and to show leadership through the business community to the seasonal residents (250,000 seasonal cottagers) who travel to the area each weekend in the summer or who make Haliburton their permanent summer home as they winter in warmer climates south. Six members of our Company Environmental team developed the concept of creating CatchingGreen in 2008. The team developed a mission statement of "Building Sustainable Business Practices Together" and invited the business community to an information session sponsored by Patient News Publishing in our Boardroom. A total of 30 local businesses showed up to the first information session. The team went to the Haliburton Development Corporation with a proposal and as such was awarded $1,000.00 to develop the
Catching Green Web Site
. Catching Green is a simple three part process. Once a local business signs up or registers to the site for free, they are provided a user log on and password, the business then has access to "Choose Templates" that provide step by step processes to operate a "green business", the business then takes action and provides feedback as to the steps they are taking. If the business implements a new green initiative then their idea and process is added to the site. This "share your knowledge" in the community will and has started to gain momentum as the collaborative effort of all involved businesses will make for a stronger Green Community. We realized early on in the process that no environmental programs existed in Haliburton. As we started with our own green initiatives we received feedback and a letter from our local government stating the effective job we were doing with our recycling at the local dump. As we live in a rural community, we have to take our recycling as does all businesses and individuals to the local municipal dump. At that point the "light went on." The local business community simply did not know what to do, or where to go for resources. The Catching Green website provides them the answers or a road map to follow. Our goal was to enable a small business to take their business green without the stress and frustration of having to research and test methods on their own. The website puts the research and the processes at their finger tips. We believe this "community based" collaborative effort is unique and our approach and methodology is also unique. It provides Step-by-step guidelines that are template formatted. We have partnered with Trent University so the information contained in the web site is university researched. The site provides up-to-date relevant methods that are viable within our community. The site will provide green product reviews and where they can be sourced locally. The site will grow and continuously improve through local business participation. Patient News Publishing has provided our expertise through our green initiatives but as important the expertise of our web designers, programmers and content managers in the site. Our team believes that Catching Green can be easily implemented in other communities across Canada or globally. Each community can be branded such as Catching Green Haliburton, Catching Green Muskoka etc. We believe that there is an excellent opportunity for a locally based printer in the Print for Pay B2B marketplace to include their locally based Clients and create their own "community" On a larger scale, the best practices could easily grow into a database with far reaching benefits including joining communities together especially when it comes to local businesses able to provide Green Products and Services that may not be available in an other business community. We have a created the website infrastructure and .net database that could be easily transported to another community. The site is template driven and could be easily updated. We have 30 charter members who immediately got involved with Catching Green and who have contributed content. We are extremely pleased to have the resources of Trent University from Peterborough Ontario who have provided students to assist us with research and who are enrolled in Environmental Studies. This has been a win/win/win for the University, their students and the business community in Haliburton. It also provides credibility to sustainable business practises that have been researched.
SCRAP (Strategic Consumable Recycling Program)
At Patient News Publishing, our environmental team is called SCRAP (Strategic Consumable Recycling Program) since its inception in 2006 our goal has been to reduce, reuse and lastly recycle. Our internal mandate as been to reduce consumption, reuse or purchase products that are reusable and lastly when we do have to recycle to ensure that the recycle effectively. It is this environmental philosophy that our Team has taken to Catching Green and the business community. As the program was just launched in late 2008 we are pleased that approximately thirty local businesses immediately "signed on" as charter members. Our team and catching green has already been featured in an number of local newspapers and we have been guest contributors on our local radio station "Canoe FM". While we can easily quantify our initiatives as represented in our Print Action Environmental Awards for 2007 and 2008, at this point we do not have quantifiable results other than we have initiated with our paper supplier to bulk ship all paper products in one truck to serve ourselves and two local printing establishments. As we are a large paper user, the two small printers have the luxury of regular shipments to Haliburton where they pick up from our loading dock. This has significantly reduced the amount of paper deliveries to our region. The fact that we are creating awareness we believe that we are playing an important role to expedite environmental green initiatives within our business community.
About Patient News Publishing
Patient News Publishing is North America's most comprehensive and innovative dental advertising newsletter and postcard provider. Founded in Canada in 1992, the company produces award-winning dental advertising and healthcare marketing products in Canada, the United States, and the United Kingdom. Our company has been named a Top 100 employer for four consecutive years, and has officially added environmental sustainability to its core values within the company vision. Advertising options include award-winning patient newsletters, postcards, brochures and referral cards, as well as specialty dentist advertising and seasonal items such as cover letters and calendars. All of our products are tailored to help achieve the specific goals of your practice. For more information go to
www.patientnews.com
.