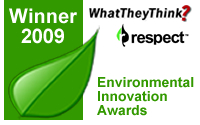 . In Partnership with:
Co-sponsored b

y:
. .

On the 39
th
Anniversary of Earth Day, April 22, 2009,
WhatTheyThink
announced the winners of the
2009 WhatTheyThink Environmental Innovation Awards,
given in partnership with
Unisource Worldwide, Inc.
and the
Unisource respect™ Printers' Program
. The
Environmental Innovation Awards
recognize companies that are making real and concrete contributions to innovation, implementation, and communication of environmental solutions. Five awards were presented to industry leaders who have developed environmental solutions within the design, production, and delivery value chain for printed graphic communications. Our 10-week series -
Learn from the Winners
- introduces each of the winners of the Environmental Innovation Awards for 2009 and 2010 and highlights their award-winning programs and initiatives. By the end of the series, we will have described real and concrete innovation, implementation and communication of environmental solutions, and you will have a checklist for a lean, green, and sustainable printing company.

Homewood Press
, Toledo OH, was the winner of the
2009 WhatTheyThink Environmental Innovation Award for Environmental Sustainability and Your Processes,
which recognized Homewood Press for implementing environmentally sensitive processes incorporating inks, papers, consumables, waste management, or recycling in new and different ways.
Mark Dubuc, VP and CFO
of Homewood Press, filled us in on his company's efforts and initiatives.
Energy Reduction
Scott and Mark Dubuc, 3rd generation family owners of Homewood Press, committed to making their business as sustainable and green as possible. After working for many years to reduce, reuse and recycle in their normal business activities, in early 2008 they decided to produce clean energy on their own plant site to further reduce their impact on the environment. In December 2008 Homewood Press installed a power generating wind turbine for the purpose of providing electricity from a clean energy source to assist in providing power to their plant. To accomplish this they installed a Skystream 3.7 turbine using the expertise of Green By Design, a Bowling Green, OH contractor. Green By Design provided a turnkey installation including the necessary city, county, and power company permits. Homewood's new wind turbine helps to reduce power consumption produced by conventional means including coal-fired power plants thus reducing air pollution and the carbon footprint of the company. Coal fired power production has traditionally caused acid rain from the Midwest to the east coast, contributes mercury pollution to the Great Lakes contaminating the food chain, and contributes significant green house gases (CO2) to the atmosphere. Wind power helps reduce these problems. It may also reduce in some small way the peak demand for power helping to reduce the need for additional fossil fueled peak demand power generating facilities. The turbine has a rated capacity of 1.9 kW continuous output with 2.6kW peak output. The rotor diameter is 12 feet, and is perched atop a 70' mast. The alternator is hooked up to the power grid through an inverter. The cut-in wind speed required is 8 mph, rated wind speed is 21 mph, and the installation is designed to survive wind speeds of up to 140 mph. With installation incentives from the company, the initial cost was approximately $30,000, and based on the average wind conditions in the area, and current power rates in Toledo, estimated payback is 3 – 5 years. Projections that suggest that the wind turbine will generate approximately 1/3 of the power the plant consumes annually.
Good Neighbors
When Homewood first acquired the property where its plant and office building are now located, Shanty Creek which runs along one edge of the property had frequently been used as an illegal dump. The banks and water were badly polluted with solid waste. The Dubuc brothers began by cleaning the banks of old tires, batteries and other accumulated trash. They petitioned the city to post no dumping signs, and had a security light positioned over a small bridge, which had often been used in the past to dump trash into the creek. These efforts have paid off as the area is now substantially free of trash and pollution, and wildlife are once again frequenting the area. Over the years, Homewood has kept the environmental impact of all its activities in mind when making decisions. For example, when it built its new office building several years ago it built a well-insulated Energy Star Efficient Building, equipped with a tankless hot water heater to conserve energy. In its printing operations, Homewood uses all VOC free inks, and FOGRA approved VOC free roller wash. Homewood also uses returnable ink cartridges instead of cans to minimize ink loss and metal scrap from cans.
About Homewood Press
Founded in 1930 in Toledo OH, Homewood Press Inc. has made great strides in 70+ years of operation. Our current capacity boasts a highly modern workflow, industry-leading equipment, and a skilled professional staff ready to assist and perfect your printing needs. We are a full service printing house specializing in all manner of materials from brochures to annual reports, start to finish. For more information, visit:
www.homewoodpress.com