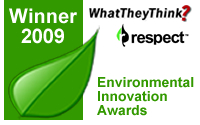 . In Partnership with:
Co-sponsored b

y:
. .

On the 39
th
Anniversary of Earth Day, April 22, 2009,
WhatTheyThink
announced the winners of the
2009 WhatTheyThink Environmental Innovation Awards,
given in partnership with
Unisource Worldwide, Inc.
and the
Unisource respect™ Printers' Program
. The
Environmental Innovation Awards
recognize companies that are making real and concrete contributions to innovation, implementation, and communication of environmental solutions. Five awards were presented to industry leaders who have developed environmental solutions within the design, production, and delivery value chain for printed graphic communications. Our 10-week series -
Learn from the Winners
- introduces each of the winners of the Environmental Innovation Awards for 2009 and 2010 and highlights their award-winning programs and initiatives. By the end of the series, we will have described real and concrete innovation, implementation and communication of environmental solutions, and you will have a checklist for a lean, green, and sustainable printing company.

AllpakTrojan
, Renton WA, was the winner of the
2009 WhatTheyThink Environmental Innovation Award for Beyond Environmental Sustainability,
which recognized AllpakTrojan for a leading-edge solution or initiative involving unique creativity.
Alyson Meade
,
Sustainability Coordinator
for AllpakTrojan tells about her company's efforts and initiatives: As a manufacturing and printing company, AllpakTrojan is poised to make a positive impact in the area of sustainability. Therefore, we have developed an Environmental Management System to incorporate and promote healthy, ecologically sustainable business practices in the workplace. Our EMS is overseen by our Sustainability Coordinator, who reports directly to Senior Management. Although, the company has been making environmental improvements for over twenty years, the program became formalized three years ago. The EMS addresses the following four key areas: Products and Equipment; Efficiency and Protection; Employees and Jobs and Commitments and Relationships. The logical first step in improving our "green" efforts was to take a look at the materials we buy, evaluate the equipment we use and the products we offer. For example, using vegetable-based inks, improving our plate-making process and becoming FSC certified. We found that we were able to make numerous improvements relatively easily. In some instances, we decided to go the extra step, so that we could offer more environmentally friendly products to our customers. The next step in our process was review how we run the facility and make improvements. Again, some changes were effortless, while some took more budgeting and planning, such as incorporating Lean Manufacturing techniques, becoming ISO 14001 certified and installing a $200,000 waste water treatment system. In order to truly be successful in these endeavors, having staff support is critical. AllpakTrojan has numerous employee-run groups, including committees for safety, social issues, recycling and transportation. AllpakTrojan is one of the few printing and packaging companies on the West Coast that is not only FSC certified, but is also becoming ISO 14001 certified. In addition, we are a member of the EPA Climate Leader's Program and are in the process of becoming a Certified Green Supplier for Nintendo. By taking more official measures and developing an Environmental Management System, it ensures that we don't make a few changes and just call it a day. We must answer to each other as a company, as well as our customers and auditors. We really do "walk the talk." As mentioned earlier, our program addresses four key areas. In order to measure success, we have a number of employee run teams to analyze historical data, audit processes and report back to staff. The following list highlights some tangible and quantifiable environmental benefits:
Vegetable Based Inks – petroleum free.
UV inks considered VOC free.
Recycled and Virgin Paper – According to the EPA, 100% Virgin Fiber Input results in 0.32 Metric Tons of Carbon Equivalent Emitted Per Ton of Product Used as opposed to 100% Recycled Fiber Input, which results in 0.43 Metric Tons; therefore, we encourage both.
Environmentally Friendly Cleaners – eliminated hydrocarbon based solvents and Hypochlorite (chlorine) cleaner.
Corrugated Recycled Content – Over 70% of the corrugated manufactured is recovered, recycled and made into new corrugated products throughout the world.
Cushionfold® (CFG) – Our patented product has the following environmental benefits: mono-substrate solution; 100% recyclable; potential to make from 100% recycled materials; eligible for carbon credits; no fumigation required; no toxic fumes; replacement for foam, wood and other interior packaging.
Recycling and Waste Program – 100% of our paper trimmings are recycled. 100% of the waste oil from the production machines is recycled by our recycling vendor into lower grade oil, that is then used by a local timber company. A large percentage of our internal waste is collected and recycled. Our Cronite Neutralizer machine neutralizes our potassium hydroxide hazardous waste.
Reduced VOC Emissions – 90% reduction in our overall VOC emissions since 2001.
Radiant Heat – reduces the amount of energy used in the DRO room by up to 30%
Lighting Project – 95% of our lighting uses F32T8 bulbs.
Pallet Repair Program – 650 wooden pallets per month saves approximately 130 trees per month and 1,560 trees per year. We have purchased 730 plastic pallets to date, saving 146 trees.
Night Deliveries
Air and Waste System Management - Timers installed on air systems reduce the amount of energy used during nights and weekends.
Partnership with Renewable Choice Energy - Our purchase of RECs has an impact that is similar to planting 1,467 trees or not driving 363,802 miles a year.
Transportation Program – Over 97 employees take part in the program.
In January of 2009, AllpakTrojan became a member of the EPA Climate Leader's Program, which is voluntary. This program has a wealth of resources that the company can tap into in order to reduce its' greenhouse gas emissions. The Sustainability Coordinator regularly participates in their free webinars, which has led to changes already. For example, we are currently looking into how we can reduce our "vampire" energy loads throughout the facility. AllpakTrojan is also in the final stages of becoming a "Green" Certified Supplier for Nintendo, a long time customer. This process included "testing" all of the materials that go into making a Nintendo product and ensuring they fall into acceptable standards. We are also members of the Packaging Alliance Network and the Association of Independent Corrugated Converters. Both groups offer workshops, meetings and contacts that we go to for support on a number of issues facing our industry, including the environment.
About AllpakTrojan
AllpakTrojan combines graphic and structural design, lean manufacturing, and complex software and hardware to produce packaging that not only enhances the image of the product in the hand of the consumer but also provides protection for transporting products around the world. To support the shelf appeal of the retail packaging that AllpakTrojan produces, the company designs, manufactures, and  prints point-of-purchase (POP) displays, counter displays, and a wide variety of marketing materials. They also provide pack and assembly services to complete the loop, if the customer wishes. For more information, visit:
www.allpaktrojan.com