PREMIUM CONTENT PREVIEW
This article is part of our premium member access. If this commentary & analysis is relevant to your business, please consider supporting us by becoming a member.
Premium Commentary & Analysis
Hudson Printing: Innovation and Inspiration
On a recent visit to Salt Lake City, I had the pleasure of spending time at Hudson Printing. The company's tagline is Reinvent Print, and it boasts a Director of Innovation. Read more about my visit and the great things happening at Hudson Printing.
By Cary Sherburne
Published: April 15, 2014
Editor's Note: Don't miss an exclusive video interview with Hudson Printing's Paul Gardner
I was recently in Salt Lake City for Adobe Summit and had been tweeting about it. One of my followers, "Bolt" Boulter, reached out to give me a warm Salt Lake City welcome. And thus a new relationship was born! Don't naysay the power of social media!
As a result of this, Paul Gardner, the firm's Director of Innovation, trekked over to the Convention Center so we could do a video interview. And the next day, I was able to spend a couple of hours with them, touring the facility and talking about how the business is changing.
Paul Hudson, CEO, recently purchased the second-generation business from his brother and has been busy making a number of changes. One big decision was whether or not to get into production inkjet—the firm has four web lines and two HP Indigo digital sheetfed presses—and if so, which press to select. Hudson told me he read all of David Zwang's articles on production inkjet from last year, published here on WhatTheyThink, which he found helpful in the decision process.
The entire operation is quite impressive, but I have to say that the production inkjet press really stands out. Hudson has dubbed it an HP T330 … it is a modified HP T350, a result of collaboration between HP and the company to ensure that the press fully met Hudson Printing's needs. It has enhanced drying and remoisturizing which required a significant amount of engineering and allows the use of a broader range of substrates. In the image below, you can see the drying tower between the two engines, and there is another one out of the image on the left-hand side.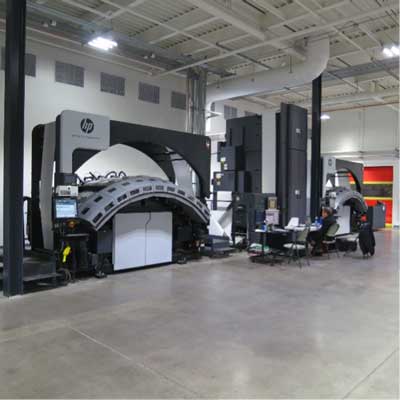 HP "T330" production inkjet press at Hudson Printing
This was clearly a significant investment for Hudson Printing, as it would be for any printing firm. But it is also a very strategic investment. "Right now, digital represents 1% to 2% of our revenues," Hudson said. "With the production inkjet press, I would expect it to be still single digits by the end of the end of the year but approaching 10%. Our target revenue number over the next 9 to 18 months is closer to 20% because we have the capacity now and we are already building momentum."
Hudson printing takes its dedication to innovation and reinventing print seriously. The company has also made some significant investments in its bindery. This includes the first installation of a Magnum sheeter, currently being fine-tuned in Toronto before a planned installation at Hudson at the end of May; the first North American installation of a Heidelberg Eurobind Pro perfect binder with a PUR adhesive binder, a new perfect binder Heidelberg designed and built from scratch; and a beta installation of new software from Horizon that more fully enables automated hybrid binding. About the latter, Hudson says, "We could already pull from specific pockets and combine sequential digital print pages with offset pages, but we could not send a data file and bind a batch of books of one; we had to enter the specifications one by one. Now we just load a data file that gives the system full information about the jobs coming its way, whether digital pages are sequential or not, whether it has a cover or not, etc., and it is all verified by a camera. So we can put any kind of print from any resource into any book, whether there is digital content or not."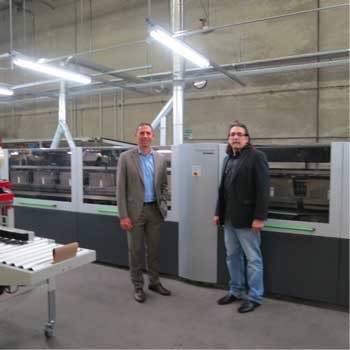 Paul Hudson and "Bolt" Boulter at the Heidelberg Eurobind Pro
Hudson added, "Being able to construct a book from different technologies is a great business opportunity, but it has to be driven by process, software, smart machines and smart people. One of the things that was motivating: when we put in our first HP Indigo two years ago, we got the feedback that offset web plants have rarely been successful with a digital cut sheet operation. We set out to prove that wrong and we did. The key to that is smart finishing on the back end."
After the tour, we had a great discussion with Hudson; Gardner; Boulter; Jeramy King, the company's COO; Bill Sattree, Director of Business Development; and Chris Ross, Chief Marketing Officer. We talked about innovation, reinventing print, and what all that means in terms of how Hudson Printing approaches customers. I just want to take a moment to talk about Chris Ross, who was a fairly recent addition to the staff. Prior to Hudson Printing he served as Chief Marketing Officer for Aries Capital Partners. Ross has an extensive marketing/digital marketing background previously serving as Vice President, Digital Marketing for Gartner, leading the company's global social media and digital demand generation programs. This Silicon Valley/Digital/Social Media background is pretty unique for a printing company CMO, and according to Hudson, Ross has had a significant influence on the company's repositioning efforts. This, together with a Director of Innovation, can't help but be a competitive advantage for the company as it continues to change and innovate.
"We thought about taking the word 'printing' out of our name as so many companies have done," Hudson stated. "But we decided not to do that. Instead, we have changed the conversation with customers and are having some radically different discussions with them. Our shift to a more consultative approach has opened lots of doors for us. We are working with our existing sales force to make this transition, but we are also hiring people with a native digital background from outside the industry. It's really been a game-changer."
Hudson explains that prior to the establishment of the current configuration of its production platform, there really was no way to do a highly variable magazine, adding, "But now it is fun. We get people's heads swirling when we talk to them about the possibilities. It creates an entirely new kind of relationship, whether or not they ultimately choose to go with this new idea. And it also causes a lot of pull-through volume, work we probably would not have gotten before."
Hudson Printing has also gotten into data services in a big way. Hudson says, "We do consulting on segmentation strategy, in-depth analysis to see what is in the customer database, and we talk to folks about things like augmented reality and interactive print. Anywhere print and digital intersect, we have to pay attention."
A good example of this is the 3D printer sitting in the company's lobby. Hudson says, "3D is a conversation-starter. We want people to think more expansively around the world of print than what they think they know."
Great advice from a fascinating company!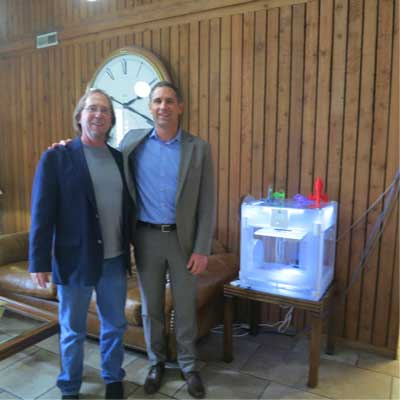 Hudson, Gardner and a 3D printer. Lots of innovative thinking represented by this photo!