Assimilate or Die–Real Life Transformation Stories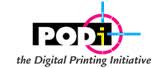 Sponsored by PODi
It's easy to say you have to change to survive. But how does an established business actually turn itself around? Here's one company's story – CustomXM, a second-generation, 40+ year old printing operation has become a successful integrated solutions provider. They used emerging technologies to significantly increase new business during the recent recession. You'll hear ideas that worked along with some that did not. This is real-world transformation not bright, shiny science fiction – being ahead of the curve can be messy, but it's the only way to move forward to future opportunities.
Key Takeaways
What it takes to create an atmosphere of change
How social media & Twitter introduced a whole new audience to CustomXM
Adaptations: handling successes and failures
CustomXM has found one path to change. There are many, many more. Come to PODi's AppForum to hear how other leading companies, like Allegra, Caskey Group, ImageSet Digital, IWCO, Presstech Digital, The Standard Group and more are moving beyond traditional print. Join hundreds of your peers and explore new options in relevant direct marketing, cross-media, interactive print, mobile and social media, marketing automation, packaging and marketing portals – along with top sales strategy and training.
MEMBER ONLY CONTENT
Viewing this content requires a free Basic Membership or paid Premium Membership.
Start your free membership today to unlock this and thousands of other articles, video and industry reports. Become a member.
TO VIEW THIS CONTENT