Eagan, Minn. – There is no such thing as a universal cardboard packaging machine says SOMIC officials, ahead of exhibiting at Interpack 2020 (Hall 14, Stand A02), May 7-13 in Düsseldorf, Germany. The number of different products is growing and the packaging tasks for the food, non-food and healthcare sectors are increasingly varied. Thus, President Patrick Bonetsmüller believes there is huge potential for flexibility.
"We see various large companies in the market wanting to present their products to consumers with perfect quality," he said. "SOMIC solves the problem of secondary packaging. This includes for all packaging tasks and service areas, established companies or new market entrants, and for large corporations or niche suppliers. It is precisely for this broad spectrum of customers that we will be addressing with the SOMIC 424 DT and SOMIC ReadyPack at Interpack."
High quality and flexible cardboard packaging machines count
The SOMIC 424 series is designed for medium to high outputs. The covered tray machine that will be at the trade fair is individually customized for a confectionery manufacturer and processes up to 380 products per minute. Two formats will be shown. The products are packaged either flat or upright – depending on the format, in a single or double row – into two-part cardboard packaging. In general, any number of different formats can be packaged on a SOMIC 424 DT machine.
"To us, gentle product handling means we ensure finely tuned movements into the grouping unit and work on flat blanks with secure sliding movements," explains SOMIC Sales Director Stefan Julinek. He said the folding and gluing process only begins once the products are positioned on the blanks.
"The product is securely guided and gently positioned," continued Julinek. "The two-part cardboard packaging with lid and tray ensures stable palletization and safe transport to the store. Once there, the lid is simply removed and the goods are placed on the shelf in an attractive manner that promotes sales."
SOMIC's proprietary toolless, quick-change technology ensures rapid format changes. The customer receives a format parts trolley to keep the necessary exchange parts at hand. Depending on the product, the SOMIC 424 DT is essentially designed for collating up to 600 products per minute, with a cartoning capacity up to 30 packaging units per minute.
Getting started with automated packaging
The SOMIC ReadyPack is aimed at those new to the world of automated packaging. Launched in 2019, this machine completes SOMIC's portfolio in the lower output range and is available as a tray or wraparound packer. It provides output of up to 160 products per minute; cartoning capacity is up to 18 units per minute for a tray packer, 12 per minute as a wraparound unit.
This capability enables companies familiar with manual packaging to get started in automation with a highly effective machine. The SOMIC ReadyPack offers the same high quality and convenience of machines in the greater output range, along with the same functionalities in terms of format changes and operation. It also scores points with a footprint of just 6.5m2 or 70 square feet.
The feel good factor
Bonetsmüller says a third area of focus at Interpack 2020 will be the so-called soft facts. "We are not just talking about machine technology, but in particular today it is about the convenience this machine can offer to operators and maintenance personnel."
He points out that Human Machine Interface (HMI) plays a key role. The user interface in the customer's language means operators can use the machine without any foreign language knowledge. In general, operation is performed by means of numerous symbols and is therefore largely self-explanatory.
In the event of a format change, the new settings can be retrieved via the HMI. The automatic emptying function also saves on non-productive periods. With statistical functions and production analyses, the HMI allows the identification of unused potential within production. The documentation can be viewed online and is available directly on the production line.
Analyses concerning the stress levels on individual system components enable maintenance scheduling. Non-productive periods during system operation are therefore kept to a minimum. This preventive maintenance and a comprehensive service program completes SOMIC's full service package.
Learn more by visiting with SOMIC experts at Interpack 2020 in Hall 14, Stand A02.
Visit www.somic.us for more information or call 651-419-6050.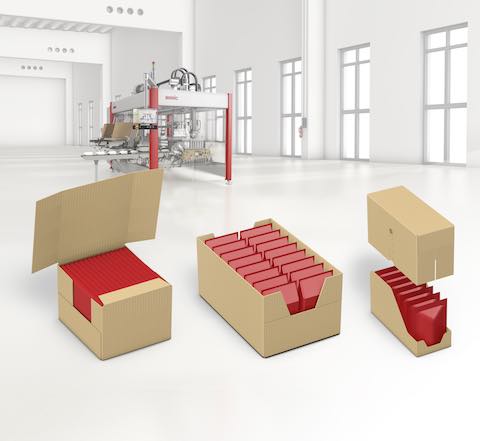 SOMIC will promote several of its machines at Interpack 2020, such as the SOMIC 424 DT that includes a tray cover option.