Construction has begun on a brand-new European headquarters and training centre for North West software firm Arden Software.

The leading packaging software company, which has its UK headquarters in Marple, Stockport, is relocating its German division into a brand-new company HQ, which will also become the location of a state-of-the-art training facility.

Arden Software specialises in CAD and CAM software for the print and packaging sector, with its Impact packaging design software being used all over the world.

The new facility is currently under construction at the 'Gate One' development in Nurtingen, Stuttgart, which is an exclusive development targeted at the tech sector.

Frank Haustein, Managing Director at Arden Software Germany, said: "This year marks the 10th year of Arden Software Germany, so what better way to celebrate our anniversary than by relocating to a fantastic new office space and launching our new European Training Centre.

"The past decade has been one of growth for Arden and the new site will enable us to continue to expand and develop the business, as well as provide bespoke training with first-class facilities for our customers and partners.

"This is a very exciting time for Arden Software and our European Training Centre will become the hub for our training activities, enabling us to host conferences, workshops, seminars and training courses focusing on our entire portfolio of packaging software."

The new Arden office will be located in the penthouse of the five-storey development, which is being designed with sustainability in mind.

The eco-friendly building project includes charging stations for electric vehicles, LED lighting and bike stores, as well as showers and changing facilities to encourage people to cycle to work.

Arden employs more than 60 people around the world and also has offices in Greater Manchester, Denmark, USA and India.

Arden Software Germany was established in 2010 and is currently located 10 miles away from the new site in Kirchheim unter Teck.

It's expected the new development will be completed by the end of the year, and Arden is hoping to move in by January 2021.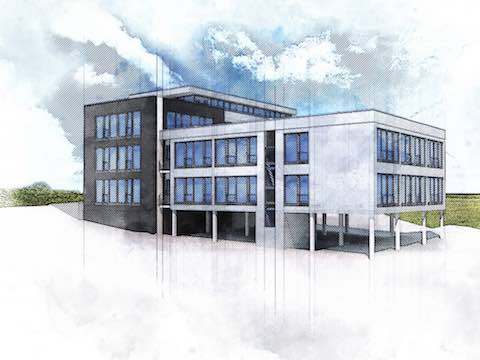 An artists' impression of the new building.