FabriVU 340i and PONGS® SoftImage Contrast Black Back used for workshop interiors
For Sam Hill, everyday feels like Christmas since he achieved his boyhood dream this September of owning and running his own garage. But, this is no ordinary garage. Stradale Italia is a Ferrari and Maserati diagnostic, service and repair center, and Sam is there to give owners of these supercars the very best in personal service.
Son of Dave Hill, extreme fringe wearer, flamboyant dresser and lead guitarist of '70s glam rock group Slade that gifted the world with that rampant seasonal classic Merry Christmas Everybody, Sam has followed in the footsteps of his grandfather, a car mechanic, rather than those of his musician father.
"I used to get up in the night and go downstairs with a screw driver and take everything apart. I had an interest in how things worked, which apparently was a nightmare for my parents. My dad had some cutting edge Pioneer speakers and an amplifier – a reward for some show he did, and I took it all to bits. There are loads of stories like that," he says.
Master technician
As soon as Sam left school at 16, he started working as a mechanic. Ambitious and gifted he joined Ferrari and Maserati at Stratstone, Birmingham, then onto Solihull Graypaul Ferrari and Maserati where he stayed for 15 years. Here, he acquired an enviable reputation for diagnosing and repairing complex electrical and mechanical issues, and became an accredited gold tier master technician, one of about 14 in the UK. He trained at the Ferrari Training Centre in the UK as well as the Ferrari factory in Maranello, Italy. In addition Sam is a silver ROSPA advanced driver and has twice reached the World Semi Finals for Ferrari Technician of the Year, most recently in 2018.
Deciding to leave Ferrari and set up on his own as Stradale Italia was a big decision, but something he had always wanted to do. He knew that while he had a gold star reputation for technical service, his business had to look the part, which is where CMYUK comes in.
The CMYUK factor
Sam had met Joel Willcock, CMYUK's Textile Business Development Specialist four years ago beyond the world of print, buying the 1980 Pontiac Trans Am that Joel had advertised. The two bonded through their love of cars, and when Sam decided to set-up as an independent, he knew that while he had a gold star reputation for technical service, his business also had to look the part so he contacted Joel.
Now customers arriving at this uttoxeter-based workshop can't helped but be impressed by the stunning interiors printed by CMYUK, the UK's largest independent supplier of wide format printers, cutters and materials and installed by the Wolverhampton-based DIS Group.
CMYUK produced several very large wall graphics for the premises depicting a Ferrari 488 engine, Ferrari F40, F50 and the back of a Ferrari 812, while a huge 6m long backdrop of a Laferrari Aperta, a rare and hugely expensive sports car dominates the back wall.
Images were printed on an EFI VUTEk FabriVU 340i, dye sublimation digital printer complete with its own inline curing system, which negates the need for a separate calendar press. They were output onto PONGS® Softimage Contrast Black Back textile, a strong, long lasting material with a scratch resistant black backing for the ultimate block out.
"I've fulfilled my own dream and that was to set up my own Ferrari workshop," says Sam. "Joel has helped me with the aesthetic side of things because that's what it's all about. When anybody walks in here they just go wow, this is lovely."
Sam acknowledges the support given to him by his family in particular his dad in making the decision to go it alone. And his father's reaction when he visited the workshop after it had been kitted out and interiors completed? Says Sam, "He shook my hand and gave me a hug. He just said, "Well done son, I'm proud of you. Knowing that he's on my side is the most important thing."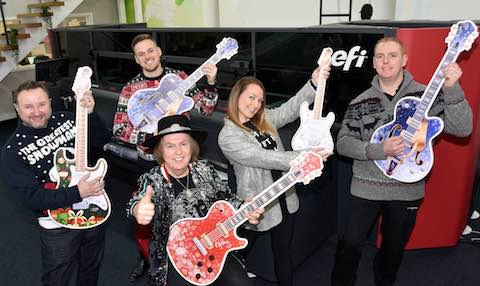 It's Chriiiiistmaaaas! Sam Hill and his father Dave Hill, legendary lead guitarist of 70s glam rock group Slade, popped in to CMYUK to thank the company for printing stunning backdrops for Stradale Italia, Sam's newly opened Ferrari and Maserati diagnostic, service and repair center in Uttoxeter, Staffordshire. CMYUK output four huge Ferrari themed wall graphics onto PONGS® Softimage Contrast Black Back textile printed on an EFI VUTEk FabriVU 340i dye sublimation printer. Installation was carried out by Wolverhampton-based DIS Group.