Roland DG EMEA has launched the SF-200, the world's first desktop eco-solvent printer developed for sensitive applications including toys, food containers and medical instruments.
The SF-200 runs highly durable yet safe inks, that retain their vibrancy and image quality while meeting standards for safety. The desktop system can accommodate objects and media up to 538mm x 360mm and up to 100mm in height, with extensive material compatibility ranging from ABS, PVC, TPU, PET, PP and PPMA to wood, aluminium, glass and leather1.
This makes the printer perfect for highly specific print requirements, whether the user wishes to print a unique full-colour design or piece of text directly to a single object or several items at once.
Compliance and safety
Thanks to compliance with the EN 71-3 toy safety standard and the Toy Safety Directive2, SF-200 eco-solvent inks are compatible with children's toys made from plastics, wood, leather and more – with designs able to withstand the roughest games. Similarly, the SF-200 is ideal for both manufacturers of food containers and retailers, who can use the system to offer personalised lunchboxes, drinking bottles and travel mugs to their customers.
In the medical sector, the new Roland SF-200 is incredibly useful for on-demand and general printing onto aluminium instruments, plastic devices and labels, all of which can be safely used in direct contact with human skin. This application can be expanded to health and personal hygiene products: retailers and suppliers can quickly and easily add customisation and decoration to toothbrushes, thermometers, cosmetics packaging and other essential items.
An extensive portfolio of solutions to meet all requirements
Paul Willems, Head of Business Development and Product Management, Roland DG EMEA, comments: "The new SF-200 is the latest addition to our extensive portfolio of solutions, all designed to meet the requirements of brands and print professionals whatever their needs."
"This latest product is the world's first desktop eco-solvent printer for sensitive applications, developed specifically to deliver safe and efficient marking, decoration and customisation in even the most sensitive environments. SF-200 users will find it indispensable for a wide range of applications."
VersaWorks 6 Software and Direct Roland Support
The SF-200 includes Roland's user-friendly VersaWorks 6 RIP software, to help users start quick and easy printing operation straight out of the box. It offers an intuitive interface, built-in Pantone® and Roland Color libraries, a colour matching function to ensure consistent colour between two or more SF-200 printers, and a host of other advanced features. Users will also have peace of mind from the one-year RolandCare Original warranty, renowned for customer satisfaction.
The SF-200 is available in the EMEA region.
For more information about the Roland SF-200, please click here.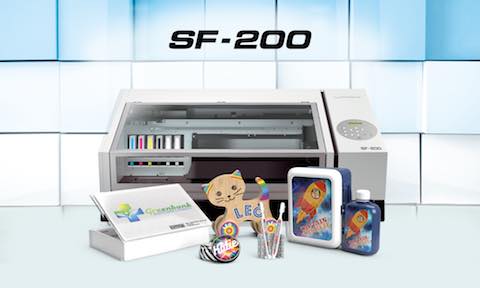 1 Special printing workflow is required for some of the materials.
2 Certification of the printed product is not guaranteed. It is the responsibility of the user printing the product to gain any certifications required and to bear the cost of any certification process. The toy manufacturer is responsible for compliance with legal requirements with toys.