The ASHE Diamond and Solitaire slitters replace the previous Parklands that had run for 20 years and will add efficiency, extra safety and speed to production.
The Diamond slitter, (affectionately now named Neil) comprises of a duplex rewind section with rotary slitting and control console, a separate shaftless unwind stand and reel lift and an offload trolley. It can slit at speeds of up to 500 m per minute and has maximum web width of 1650mm.
The Solitaire slitter (now named Bruce) comprises a free-standing slitting / unwinding machine together with a separate shafted unwind stand and an offload trolley. It also has a maximum speed of 500 m per minute but with a maximum web width of 600mm.
Key New features:
• Central gangways run through the presses giving operators access to observe the material and rollers at different points and manage any issues quickly.
• A shaftless unwind that can be lowered to the height of the reel of material then lift it automatically providing a safer operation than previously as there's less manual handling.
• Differential winder that evens out the amount of torque/tension across the bar so multiple reels of different sizes can be slit correctly at the same time.
• Lay down rollers that push the material down and the air out between the layers therefor reducing movement. This allows faster, more efficient winding.
• Blade lights for clearer visibility during slitting.
• Banana/bowed roller to enable running films without creasing.
• Both slitters are run by digital touch screen. Initial training for operators on the new slitters has enabled the building of a bank of information to allow pre-loading of pre-set tensions that in turn allows automatic calibration of winder tension dependant on the diameter of the reel and the microns of the material.
Quote from Paul Sykes, Production Manager at Bakers
"The continued challenge for us to be able to satisfy the demand from customers to provide them with a faster, even more efficient quality service was the driver behind us investing in two new slitters. The quality of the new ASHE Diamond and Solitaire slitters is fantastic and our Materials team have been working hard in training to adapt to the new kit."
Website www.bakerlabels.co.uk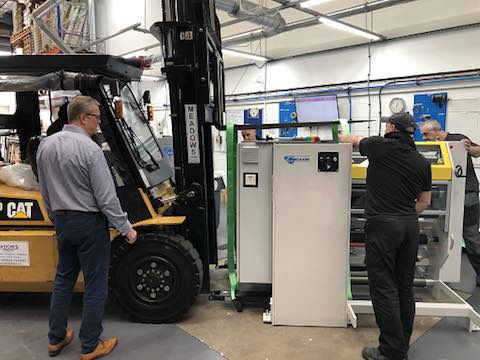 Steve Baker overseeing the installation of the Solitaire slitter.