Spartanburg, S.C. – Zimmer Austria today announced the first USA sale of its Colaris digital textile printer to Ultimate Textile Inc. in Rutherfordton, N.C.
Colaris is a family of high-performance, high-quality printing machines for all kinds of textile and carpet materials.
Ranging from 1,800 mm up to 4,200 mm printing width, it covers most of the textile applications.
Well-tested inks with high fastness levels are used:
acid inks for polyamide (nylon) and silk
reactive and vat inks for cotton and viscose fibers
disperse inks for polyester
ultimate textile inc. is expanding into digital printing in a company which already emphasizes quality over quantity.
As a family owned and operated business, textiles are a passion for them that goes back several generations.
They are committed to producing the highest quality product possible, continually striving for advancement of the science of color chemistry through rigorous research & development, and continually listening to their customers' feedback.
They encourage their customers to get involved in the development of their product through communication with their staff, or a personal visit to their plant.
Their customers can always communicate directly with their president, Rocky Guarriello.
Ultimate Textile promise that their product, and your experience with them, is the best in the industry.
They take pride in their work & stand behind their product.
Zimmer Austria is a manufacturer for Screen & Digital Printing Machinery, Coating, Steaming, Drying, Digital Functionalization, as well as Sample, Lab, and Washing machines.
Zimmer Austria's production sites are in Kufstein and Klagenfurt, Austria.
The North American sales and service office is located in Spartanburg, South Carolina.
Zimmer's machines cover the following applications: home textiles, wall covering, carpets and mats, fashion, upholstery, towels, blankets, technical textiles, nonwoven, paper, glass fiber.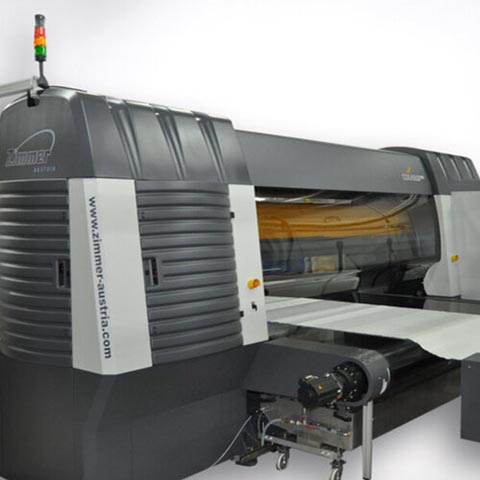 Image Courtesy of Zimmer Austria.