The proven prepress and workflow software from German software expert OneVision makes book, commercial, label and wide format printers achieve higher throughput and increased profitability. At booth 11553, OneVision is demonstrating an automated print production workflow from prepress all the way to finishing.
Regensburg / Dallas – "Bigger. Better. Bolder." – Not only the motto of this year's Printing United. It's also the one Michael Hiemann, Managing Director of print service provider Siepro KG, heeded when growing his print business. Faced with an increasing number of incoming orders, he made the bold move, automated his workflow and got rewarded: with the Wide Format Automation Suite, one of OneVision's dedicated software suites that are also available for Commercial Printers, Label Converters and Book Printers, he decreased the number of manual touches dramatically and solved the bottleneck in file preparation that again allowed Siepro to take in additional jobs: "We not only increased the number of jobs per day, but also our profit margins."
At Printing United from 23 – 25 October 2019 in Dallas OneVision, one of the leading manufacturers of prepress and workflow automation solutions, presents high-performance automation software that enable print service providers to process files end to end, from order entry through prepress to press and embellishment and finishing.
Automated file preparation from prepress, press to finishing
With more than 25 years of experience in prepress and workflow automation, OneVision's software solutions enable printers of all kind (commercial, wide format, label, book) to increase efficiency, throughput and profitability through innovative and reliable technologies. The basis of the software solution is an extremely flexible, easy-to-use workflow management system that can be connected easily to other parts of the IT landscape (e.g. MIS, web shop and RIP). Through the seamless integration files pass through classic file preparation steps such as preflighting, color management, flattening of transparencies, file normalization, etc. via defined workflows. The integrated prepress package sets up error-free, print-ready files, normalized according to the respective press profile.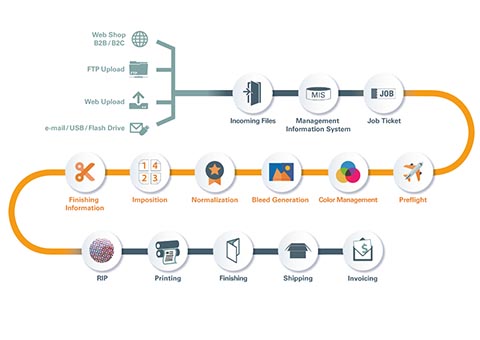 An automated print production with the OneVision software solutions.
Depending on the market segment, OneVision Software also offers comprehensive automation suites specifically tailored to the requirements of book, commercial, label and wide format printers. In addition to the workflow management system and the prepress package, the suites include special automation tools for these segments such as variable data printing, nesting, tiling & paneling, impositioning, cut line management etc. The automatic creation of post-press information such as cut lines, varnish and white masks and the application of a wide variety of barcodes ensure a trouble-free production process. Communication between the finishing unit, press and OneVision software takes place either in XML or JDF.
Faster production times, better print quality, higher margins
As a result, print service providers benefit from higher throughput, a relieved RIP and more profitability. Customer-focused cooperation with renowned press and finishing system manufacturers such as Screen, Canon, EFI and Zünd enable an optimal interplay of software and hardware. Meet the OneVision Software team at Printing United in Dallas at booth 11553.