Global Alliance to Feature Expansion of Digital Printing & Embellishing Solutions for Labels and Flexible Packaging Markets
Melbourne, Fla. – On the 40th anniversary of the biennial Labelexpo Europe exposition, occurring in Brussels from September 24th – 27th, MGI and Konica Minolta will have a united show presence (Hall 8 - Booth - 8C12 - 8C19) and an integrated solutions portfolio, highlighted by the JETvarnish 3D Web Color + digital print enhancement press. The JETvarnish 3D Web Color + is the world's first inline label and flexible packaging solution for high-definition digital CMYK color printing, personalized 2D/3D dimensional textures and variable embossed foiling applications.
The international adhesive label market is projected to rapidly grow from $31 Billion in 2018 to $41 Billion by 2023 while the accelerating flexible packaging market segment is forecasted to increase from $98 Billion in 2016 to $132 Billion in 2022 (estimated by Markets and Markets Research).
The expected 38,000 attendees of the world's largest label printing exposition will have the opportunity to experience 5 different printing and embellishment presses from MGI and Konica Minolta, including:
The AccurioLabel 230 digital color press: Ideal for short and medium-range production runs, it succeeds the AccurioLabel 190 press which fueled Konica Minolta's rise to becoming one of the key players in the global digital label marketplace.
The JETvarnish 3D Web Color + digital print enrichment press: Features semi-rotary cutting and slitting functions – as well as both corona treatment and flexo primer coating stations for maximum substrate diversity and print surface flexibility. The vast range of flexible packaging and label materials that can now be decorated with exciting visual and tactile enhancements includes plastic, synthetic and paper-based stocks. These powerful substrate management tools are also complemented by an automatic rewinder utility and a self-cleaning inkjet system for optimizing the profitability of job production activities. The JETvarnish 3D Web Color + analyzes each piece with the AIS Smartscanner intelligent and adaptive registration system.
MGI and Konica Minolta will be creating numerous presentations and demonstrations about the value to print buyers and brands of digitally printing and embellishing their products to create high-impact consumer impressions in retail and e-commerce shopping environments. Application formats will include bottles, boxes, shrink sleeves, pouches, tubes, tags, labels and promotional items.
Konica Minolta's Accurio-based Sensing's color calibration technologies, as well as the onboard JETvarnish 3D Image Editor and Job Cost Calculator software solutions of MGI, will be also highlighted to provide production planning tools that maximize efficiency and optimize productivity on every print job.
For more information, please visit www.mgiusa.com and www.kmbs.konicaminolta.us. Follow MGI on Facebook @MGIonline and Twitter @MGI_USA for the latest printing industry technology news. Follow Konica Minolta on Facebook, YouTube, and Twitter @konicaminoltaus.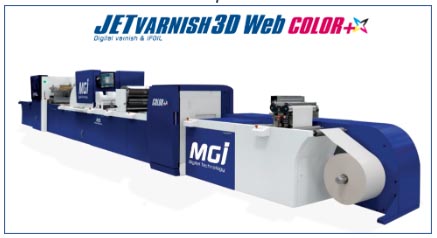 JETvarnish 3D Web Color + Press Includes 4-Color Digital Printing, 2D/3D Special Effects & Foiling.