Chicago, Ill. – Star Incorporated, an event and trade show solutions provider of exhibits, graphics, and event services with over 50 years of proven success in the industry, recently upgraded its digital wide format printing portfolio with the investment in the revolutionary Panthera S4-3.2m dye sublimation printer.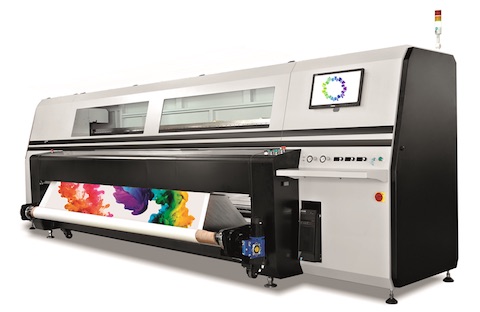 Panthera S4-3.2m Printer
Besides the printer's blazingly fast print speeds and its versatile print options, Star selected the Panthera based on its ability to achieve excellent, high-quality prints and a more vibrant color output on a wide variety of materials including fabrics—opening up more design and creative possibilities for clients' projects. In addition, the printer's speed comes without sacrificing quality and consistency, and has low maintenance requirements. Also, the Panthera is capable of holding up to 3,280 feet of transfer paper resulting in more uninterrupted work flows.
The Panthera S4 came highly recommended by Randy Peters, President and CEO of The Mosaica Group, Star's partner of equipment and wide-format media. The Mosaica Group—a national distributor supporting dye sublimation and wide format print processes with equipment, consumables and services—is the exclusive distributor of the high-speed Panthera digital dye sublimation printing system in the U.S. and Canada.
The Panthera S4 is available in both 1.8m and 3.2m widths. Each S4 model has four Kyocera print heads that achieve speeds up to 4,000 square feet per hour. In addition, Panthera printing systems feature a specially-developed print head controller that offers better precision and printing quality, along with an anti-crash system on the carriage to protect the print heads from incorrectly hitting the transfer paper. It offers a flawless roll-to-roll feeding system that helps to eliminate paper waste and is able to use low-weight paper (as low as 22 gsm) due to a highly-sophisticated tension control system.
The latest enhancement to the Panthera S4 is the ability to print directly to certain coated fabrics. Historically, dye sublimation printers print direct to transfer paper or direct to fabric, but were not able to print to both due to both processes requiring different ink chemistry. Not only is the Panthera able to seamlessly print to transfer paper, but it can print directly to certain coated fabrics without changing the ink set or adjusting the workflow settings.
Panthera printing systems are much easier to operate and perform more routine maintenance checks than any other printer on the market. It has proven higher productivity because of less cleaning and less maintenance requirements. Panthera printers can be controlled from any place in the world using a mobile device (optional Intelligent Camera System required).
"I'm excited to see how the Panthera S4-3.2m printing system will enhance projects for our clients and expand our capabilities due to its ability to print directly to transfer material or some fabrics up to ten and a half feet wide," said Bryan Fairbanks, Star's Graphics Manager. "This printer is a game changer."
For more information about how the Panthera could benefit your next event or trade show exhibit, visit Star online at starincorporated.com to speak to one of our sales experts. To learn more about the Panthera and The Mosaica Group's complete dye sublimation portfolio, visit Get.PrintMosaica.com/Panthera.