West Chester, Ohio – At the Nilpeter open house in Cincinnati, Ohio, in early June, Color-Logic metallics were featured as an enabling technology with the Nilpeter Panorama press. Mark Geeves, Color-Logic Director of Sales and Marketing, demonstrated Color-Logic decorative effects and embellishments to the attendees, emphasizing the Color-Logic catchphrase: All Print Starts With Design.
According to Geeves, "The Nilpeter Panorama press provides a foundation for many exciting new applications and embellishments, and the Color-Logic design toolset enables graphic designers to quickly and accurately prepare files for both the digital and hybrid versions of the Nilpeter Panorama press."

At the event, Color-Logic printed and distributed samples using the Panorama Press white and CMYK inks on a metallic stock. Attendees were amazed at the results, which create significant marketing opportunities for brands. Color-Logic provides training videos which enable graphic designers to begin applying the metallic printing design tools immediately, for applications on metallic substrates or using silver ink on conventional substrates.

For more information, visit www.color-logic.com or call +1-513-258-0047.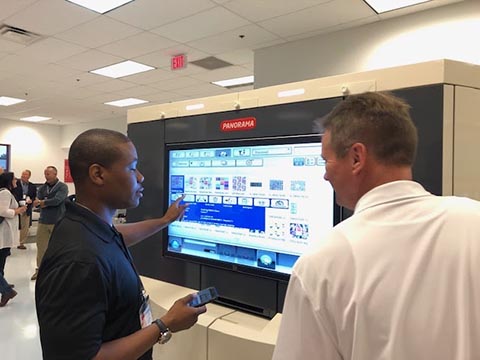 Panorama Operator Prepares Color-Logic File for Printing.