Massivit 3D has been spearheading an enormous shift for print service providers. Leveraging breakthrough technology, their large format 3D printers open up new profit avenues and serve as a bulwark against market commoditization. Print service providers have been able to increase their offering to existing clients, as well as bring in an entirely new audience. While there are many reasons why PSPs have embraced large format 3D printing, the most common are size, speed, and that infectious wow factor.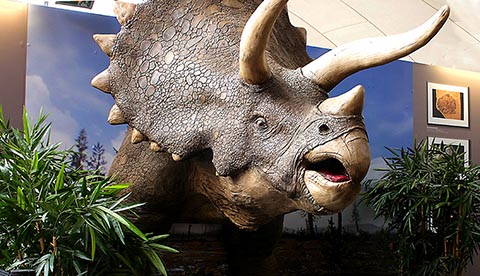 Go Big, or Go Home
While wide format 2D printing was born a few decades ago, in some ways its maturation depends on the advent of large format 3D printing. For instance, there's simply nothing else that stops you in your tracks like a 10- foot tall dinosaur. The idea of going bigger isn't revolutionary, but the stopping power capabilities and speed with Massivit 3D printers certainly is.
With the capability to produce displays and props up to 5.8ft high per piece, you can seamlessly take your customers' large format 3D idea from concept to reality. Plus, by assembling several parts together, you have little to no limitations in terms of final output size. You can 3D print pretty much anything your customers dream up and do it big enough for their brand to get noticed by anyone and everyone. This is a leading factor that has brands like Coca Cola, Emporio Armani, Louis Vuitton, and Sony Pictures, clamoring for large format 3D printing.
Unbeatable Turnaround Times
Getting deliverable products ready for clients in time is always a challenge for print shops. Managing deadline expectations while producing unique, creative output and the best service possible can be like walking a tightrope. Particularly when it comes to custom 3D displays and props, traditional production time methods can spiral turnaround times to the point where print houses have to turn down work. Hand carving is notoriously slow. CNC routing requires complex setup, is limited in geometrical design, and is generally a very messy production process.
The burden and challenge of meeting tight turnarounds is being reduced or eliminated entirely due to large format 3D printers such as the Massivit 1800 Pro. For example, a custom mannequin for a sports campaign or window display can take days or even weeks with Styrofoam hand sculpting. A CNC router can cut that timeline to 20 hours. The Massivit 1800 Pro can 3D print that same 3D display in around only 6 hours, cutting your timeline by 65%. Being able to offer such quick turnaround times puts PSPs ahead of their competition, as well as positioning themselves to take on jobs that nobody else could handle in such a tight timeline.
The Wow Factor
While size and speed are crucial for PSPs, it's that simple but elusive wow factor that has opened them up to a new world of clients. The crowd-stopping impact of large format 3D printed objects is bar none. Whether a 3D POP in a retail store, a 3D bus wrap, or an outdoor selfie point as part of a guerilla marketing campaign, the enthusiastic reception from consumers creates quite the buzz.
Print Service Owner, Steve Gallow, commented on the business and marketing impact of adopting his giant 3D printer, "The hype this technology drums up is phenomenal. We used to get one lead per month through our social media channels, but since purchasing a Massivit 3D printer, now we're getting an average of 3 leads per day."
This excitement feeds the creativity of brands, who now understand the buzz and stopping power that their vision can make. Print shops armed with a large format 3D printer enable that creativity, encouraging their clients to dream up whatever they like, knowing they will be able to deliver. It's a recipe for energizing existing clients to do more, as well as bringing in new ones.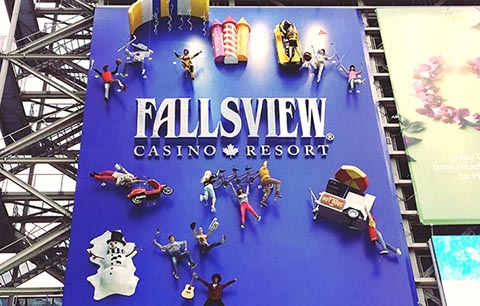 New Technology Brings New Margins
Perhaps the most exciting part of this move toward large format 3D printing is the way it changes business models. Print service providers have had to come to terms with the commoditization of their product offerings, which leads to a race to the bottom in terms of profit. Intense competition has left less room for error and made business scalability virtually impossible.
When a groundbreaking technology such as large format 3D printing comes into an existing market, it provides a brand-new opportunity for bigger margins. The size, speed, and wow factor of 3D displays all add up to giving PSPs an ace up their sleeves. This is an offering that can't really be matched, thus allowing print shops to set their own prices and reinvigorate their sales.
For a deeper look at the reasons why print services are embracing 3D printing, be sure to read the 5 Reasons to Incorporate 3D Printing into your Wide Format Digital Print Business ebook.