Dublin, Ireland / Leatherhead, UK – Horizon, the award-winning digital print and design specialist, used FESPA 2019 to complete the signing of a third Durst production system as part of a move to future-proof its fast-growing business in the final stages of a major investment program in Dublin, Ireland.

Durst, manufacturer of advanced digital printing and production technologies, has agreed terms to supply a Durst Rho 1312 fully automated with a Smart4 speed advancement tool that improves speed and productivity by 40%. Horizon already has Durst P10 25O HS and Rho 1312 print production systems, which are also automated systems.

Family-owned Horizon is only weeks away from opening an extension to its head office on Navan Road, Dublin, where it has been located for the last 26 years. Having a new facility nearby, yet in a separate unit, ensures continuation of the company's disaster recovery planning. The company's expansion also includes new finishing machinery.

Horizon was formed more than 30 years ago and employs over 80 staff. With a design and print hub, it specialises in retail, POS, outdoor advertising and interactive digital in Ireland and works for a cross-section of clients, including blue chip companies. Horizon has won accolades in marketing and print awards.

Tony Gillen, a director at Horizon, said: "Our decision to once again partner with Durst was an easy one. The Durst 1312 Automate is state of the art and will increase our capacity significantly. The consistency of the Durst printer ensures there are no colour variations in print runs from start to finish. As for colour matching, the Durst matches the Pantone spectrum more accurately than any other machine in its class."

Mr Gillen added: "We pride ourselves on our ability to react to our customers' needs without compromising on quality, the cornerstone of our business model. The team at Durst give us the confidence to develop our business further, as partners they too provide second-to-none service and support. Durst provides us with the confidence to meet our clients' needs."

Peter Bray, Managing Director of Durst UK and Ireland, said: "Horizon is another prime example of how forward-thinking companies are recognizing the significant benefits of continuous investment in latest technologies. We're delighted that the success it has already had with our technology made it an easy decision to invest again with Durst, which I'm sure will increase Horizon's profitability and help the team to win more awards."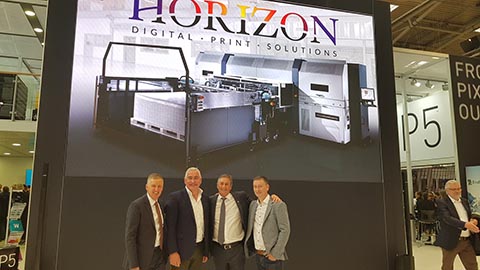 New business on the horizon: From L to R - Durst's Peter Bray, Horizon's Tony Gillen, Durst's Richarde Bates and Declan Kelly at the FESPA signing.