Print quality monitored down to the finest detail
Core business in high-quality finishing
Professional inline sheet inspection detects the tiniest deviations
Expansion of production capacities
Triple-length extended delivery for optimum drying
A new eight-colour Rapida 106 with twin coaters has been in production at Bernholz Packaging in the North German town of Bad Salzuflen since November. It is the second press in this configuration at the company.
Straight printing with up to eight colours and practically all the finishing variants which can be realised in a double coating process is the core business of packaging specialist Bernholz, an independent company founded almost 100 years ago. Its main product line is cigarette packaging, where spot colours dominate alongside the standard four-colour set for the illustrations required by present-day legislation. Bernholz also serves the premium segment of the confectionery industry. Managing director Mark A. Hoffmann: "With a six-colour press, we would simply be too limited in our options."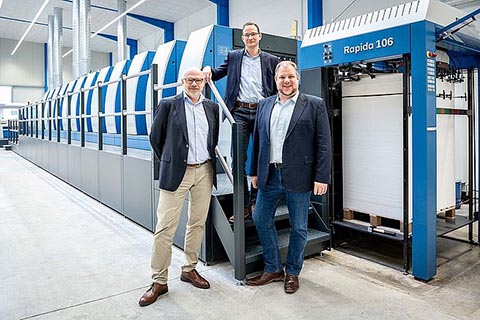 Managing director Mark A. Hoffmann (centre) and his general managers Torsten Mauk (right) and Oliver Speckmann are more than pleased with the capacity boost from their new eight-colour Rapida 106 with twin coaters.
Gapless sheet inspection
One special feature of the new Rapida 106 is that it incorporates the inline inspection system QualiTronic PDF HighRes. This enables Bernholz to monitor quality to a standard which is normally only required by suppliers of pharmaceuticals and similarly quality-critical products. The reason for such complex quality monitoring lies in the demands which Bernholz customers place in every aspect of their packaging. To meet these demands, also in respect of print quality, professional inspection methods are essential.
QualiTronic PDF HighRes compares every printed sheet against a reference generated from the pre-press PDF. Production monitoring is then effected at resolutions up to 290 dpi, right up to the maximum printing speed. Errors in a 6pt Arial font can be detected with ease. To enable flawed sheets or blanks to be sorted out before or during the further processing, each sheet is already marked with a unique code as it leaves the feeder. If an error is detected, the number imprinted by the Sheet Ident inkjet system is entered in an error report, and it is then a simple matter to identify the flawed sheets or blanks for removal before the transfer to post-press.
Increased production capacity to serve additional customers
The latest Rapida 106 is already the fourth at Bernholz. An identically equipped Rapida 106 stands in the neighbouring hall, allowing Mark A. Hoffmann and his team to make a direct comparison. The advances in sheetfed offset technology over the course of just a few years are immediately evident: Productivity and output of the new press are much higher. Makeready time has also been reduced to an equally significant extent.
"We bought the press to increase our production capacity," says Mark A. Hoffmann. The targeted market diversification means expansion into new fields of business, and thus new customers. If they require extensive and sophisticated finishing, for example for packaging for the cosmetics, pharmaceuticals or food industries, Bernholz would be glad to fulfil such wishes. But finishing is not an absolute must, because the company also promises the flexible and cost-effective production of less complicated packaging. And for customers who are additionally concerned about sustainability, Bernholz Packaging is certified to the FSC and PEFC standards.
New sheetfed offset technology, experience with high-quality products and the sheet inspection system are unique selling points which could also be interesting for other customers. Especially as Bernholz is able to produce both folding cartons and labels, all thanks to the exceptional substrate flexibility of its two highly versatile Rapidas.
Finishing in all dimensions
With the combination of twin coaters and UV capabilities, practically every conceivable form of finishing can be realised on the two Rapida 106 presses: Primer and UV for matt-gloss effects, soft-touch, sand texture, coloured coatings, metallic effects and many more besides. General manager Oliver Speckmann was very much in favour of a triple-length extended delivery: "The longer time for drying brings a tangible improvement." After all, total ink coverages continue to increase, the trade-off for the use of food-compliant inks is poorer drying, and the customers are dependent on especially resilient finishes for their ever faster packaging machines.
After very successful testing on the previous double-coater press, the new Rapida 106 has also been fitted with DuraPrint rollers from Sauer. They were found to be more stable than others and bring the press into colour slightly faster. Good cleaning results are achieved with shorter washing programs and the intervals between individual washing cycles can be extended. These benefits are especially noticeable when working with spot colours.
Comprehensive investment in equipment and technology
Bernholz has always invested strongly in its production facilities. In 2016, for example, new die-cutting machinery was installed. This was followed by a new 600 m2 production hall in preparation for the arrival of the Rapida 106 last year. LED lighting ensures perfect illumination in the production areas. The renaissance which began when Mark A. Hoffmann and Reiner Krug took over the company seven years ago has since transformed every aspect of its business.
The company today counts 35 employees, who work in two shifts. Another four employees work at Bernholz Digital Services (pre-press, CtP and digital print), the most recent acquisition by the packaging specialist. With production floor space totalling 7,100 m2, the company is situated practically in sight of the motorway and thus in a logistically ideal location.