Richmond, Va. – Drytac® is delighted to announce the appointment of Tim Schoenbeck to the position of Midwest Territory Manager in the USA.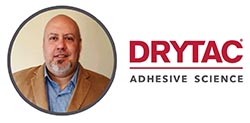 Tim joins Drytac - a leading international manufacturer of self-adhesive materials for the large format print and signage markets - with over 20 years' experience in the large format graphics arena, with particular expertise in digital printable media. Based in Cleveland, Ohio, Tim will be responsible for Ohio, Minnesota, Wisconsin, Illinois, Michigan, Indiana, Kentucky, South Dakota and North Dakota.
"We're excited to welcome Tim Schoenbeck to the Drytac family," comments Wayne Colbath, Vice President of Sales, Drytac. "His two decades of experience managing key accounts and his extensive knowledge of large format graphics media are a great addition to Drytac in the USA.
"Drytac is bringing to market a wealth of exciting new products this year and Tim is well placed to work with our existing valued customers and to expand our sales base."
Drytac's key product areas include window, wall and floor graphic media, laminating films and mounting adhesives, high-performance tapes, industrial adhesives and durable labels. Recent product launches include the ArmourPrint™ Emerytex® and ArmourGrab™ combination counter mat solution, new display material with a unique high-bond adhesive Polar® Grip, ViziPrint® Deco SR film for long-term window displays and window decals, and ReTac® WipeErase and WipeErase White - materials designed to be written on with standard dry-erase markers to create a whiteboard anywhere.
For more information on Drytac's products and services, please visit www.drytac.com.