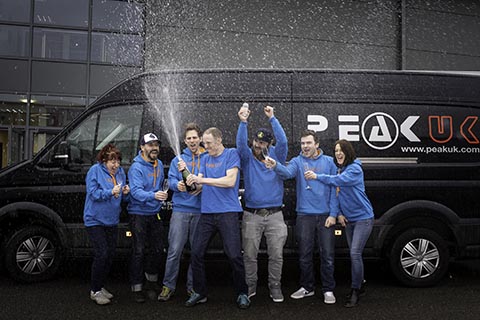 Clevedon, UK – Roland DG EMEA has officially presented the trophy and prize for the inaugural Roland Hero Awards to winner Peak UK.
Jerry Davies, Managing Director of Roland DG UK Ltd, and Gillian Montanaro, Head of Marketing at Roland DG EMEA, visited Peak UK's fantastic facilities in the Peak District to meet owner Pete Astles and his staff, and to celebrate the company's win.
Pete and his team were selected as the overall winner of the Roland Hero Awards in January by judges Gillian Montanaro, best-selling author and award-winning entrepreneur Beth Kempton, and President of FESPA Christian Duyckaert. After whittling down an incredibly strong shortlist, the judging panel decided that Pete best encompassed what it means to be a Roland user, representing creativity, innovation, entrepreneurship and inspiration. His story of building up a kayaking apparel company, using Roland Texart dye-sublimation systems to produce unique designs for Olympic teams, was truly inspiring.
Jerry and Gillian presented the official winner's trophy – printed using the Roland VersaUV LEF printer – along with a certificate in a gorgeous frame and details on Pete's main prize: a trip of a lifetime to Iceland, Florida or Thailand. The Peak UK team also celebrated with a bottle of champagne.
Pete Astles says he's 'elated' to win and admits that he 'kind of hoped' Peak UK would claim the top prize.
He comments: "I was really proud of our story – great product, great use of sublimation printing. It's so great to get recognition outside of our sport and our industry for the products we make."
Pete adds: "It's a real reward for our team here. Everybody's been involved in the design process, the selling, the shipping, the manufacturing, so it's a really great team effort. Everyone should be proud. Thank you, thank you, thank you to Roland and the judges!"
Jerry Davies, Managing Director of Roland DG UK Ltd, adds: "It was a pleasure to meet Pete and the Peak UK team in the beautiful Derwent Valley. Peak UK demonstrates how creative ideas can come to life with the right technology – in this case reaching the global paddle sport garment market by utilising the brilliant Roland Texart system. Everyone at Roland sends huge congratulations to Pete and hopes he thoroughly enjoys his holiday."
While Pete hasn't confirmed his choice of destination, a trip to exotic Thailand for four people looks like the favourite.
"We've never been to Thailand and it looks amazing – I'd love to explore a new country and culture," says Pete. "We'd like to try and get out kayaking when we're there too!"
Pete has this advice for entrepreneurs thinking about working in printing or design: "Find a niche, make sure your quality is top notch and stand out from the rest with your creativity."
Watch the video of Pete and the Peak UK team receiving their prize by clicking here and read their story here: https://www.rolanddg.co.uk/gallery/customer-success-stories/apparel/peak-uk