Munich (Germany) – Stefan Meissner, internationally recognized expert for the JDF standard and efficient processes in print production, has joined PerfectPattern as Director Application Print. With sPrint One, the company offers print businesses a powerful application for automating print planning and calculating printing forms in offset and digital printing. sPrint One uses various methods from the field of Artificial Intelligence. This leads to significant savings in resources such as paper and printing plates as well as setup and production times. Stefan Meissner comes from Flyeralarm, one of Europe's leading online printers.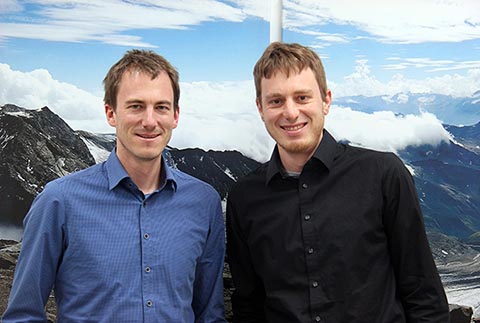 At PerfectPattern, brothers Stefan (left) and Robert Meissner are now jointly driving the further development of sPrint One for dynamic print planning.
Stefan Meissner has been in touch with PerfectPattern since its beginnings – his brother Robert is one of the founders of PerfectPattern and is responsible for the product management of sPrint One. The two brothers found their passion for printing early on in their parents' print business.
In his new position, Stefan Meissner will support PerfectPattern's partners – including Cimpress, Kodak and Sappi Europe – in implementing sPrint One into customers' existing environments. In this process, a digital twin of the respective production environment will be created. Based thereon, the Artificial Intelligence will optimize both the print planning and the calculation of the printing forms. sPrint One offers a wide range of functions for this purpose.
"The combination of my experience in printing technology with my expertise in information technology has always appealed to me," says Stefan Meissner. This resulted in a career in software development with a focus on online printing. According to Meissner, this is known for high productivity and a high degree of automation based on powerful software solutions. Meissner continues: "I am looking forward to leveraging my knowledge to help print businesses increase their competitiveness."
Meissner comes from the online printing company Flyeralarm, where he worked as "Senior Prepress Automation Coordinator". Previously, he spent two years at Saxoprint, where he pushed IT-based production optimization.
Key role in the CIP4 consortium
Stefan Meissner also plays a key role in the CIP4 consortium, an association of over 300 companies and organizations from the printing industry in 31 countries. Among other things, the consortium is driving the development of the Exchange Job Definition Format (XJDF) for the exchange of print jobs. Meissner was chairman of the XJDF working group. Since the publication of the first version of the standard early 2018, he is pushing the implementation in the industry.
"We are very pleased to have Stefan Meissner in our team," says Fabian Rüchardt, CEO of PerfectPattern. "His extensive experience and competence in all aspects of efficient print production will significantly contribute to the implementation of sPrint One at our partners' customers as well as to the further development of our technologies for the printing industry."
PerfectPattern is currently developing Kayros Print, an AI solution that can also be used to optimize finishing processes. The combination of sPrint One and Kayros Print will make it possible to steer a print business entirely, even across locations.
However, PerfectPattern technologies are not limited to the printing industry. Early February, the global technology group Voith and PerfectPattern announced a cooperation. The first pilot projects within the scope of the cooperation will apply to the paper industry.