West Caldwell, N.J. – Black Friday and Cyber Monday have come and gone and the holiday shopping season continues for the balance of the month. While eBay is a popular site to buy clothing or power tools, Colter & Peterson's President and CEO assures the Internet is no place to buy a paper cutting system. That's why Bruce Peterson created CutterMart, a safe, online resource that provides a wide selection of machines and protects customer investments.
As North America's largest independent distributor of industrial paper cutters and paper handling equipment, Colter & Peterson has built its reputation by taking care of and servicing customers. Its industry-leading PRISM® and SABER® paper cutter lines are extremely popular and highly productive with Microcut electronics packages. C&P also offers reconditioned and certified used machines that pass rigid test standards.
"I've heard of people buying paper cutters over the Internet. To that I say, buyer beware," says Peterson. "Some may work and some may not, and there is the added cost when it breaks down. That's why we have CutterMart. Our program, which is accessed through our website, offers customers across-the-board assurance whether they are buying a new product, one that we have rebuilt or one that is certified used."
The numbers tell the story
Peterson further explained the steps that C&P takes with customers in mind who are considering pre-owned paper cutters or paper handling systems.
"Since my grandfather opened the business in 1932, we have sold and installed over 10,000 machines ranging in size from 19 inches up to 149-inches wide. We carry many different models including Harris-Seybold, Dexter-Lawson, Challenge, Polar and Wohlenberg. A well-built paper cutter, if properly maintained, can be functional for decades.
"The machines we rebuild or sell as certified used have all met specific performance criteria. Before we offer them, they have been cleaned, run, and tested to assure they are in good condition. The knives have been sharpened and if we found any part that was broken, we've replaced it and made sure the machine is in safe working order. And we support our work by offering customers a limited warranty, something you won't find on the Internet."
Peterson said another advantage of CutterMart is its ability to provide a customer what they need in a short amount of time.
"Many times we get inquiries because a shop knows it is time to replace an aging machine that is experiencing problems. It may not be reliable anymore, parts may be hard to find to replace, or it is simply no longer cost effective. Others have had a machine break down and need an immediate replacement.
"With CutterMart we usually have over 100 machines in stock. Whether it is a rebuilt machine or one that is certified used, there is something available at every price level. Some machines can ship within one to two weeks. That's also true for other equipment, such as our paper joggers, lifts and automatic unloaders, as well as three-knife trimmers. If a customer is looking for repair service, knife grinding services or help moving or transporting their machines, we can assist with that too."
Peterson revealed that C&P will soon introduce a new resource exclusively for dealers.
"We plan to roll out DealerMart in the coming weeks. It will primarily be a place for dealers to buy equipment for resale," acknowledged Peterson. "DealerMart has been in the works for some time. We are finalizing details right now and will explain price structures and other things soon."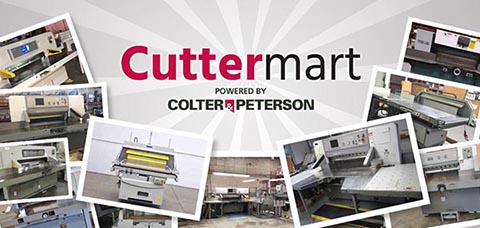 Colter & Peterson's new CutterMart service allows customers to purchase new, rebuilt or pre-certified paper cutters with assurances.