West Caldwell, N.J. – For Colter & Peterson, PRINT 18 ran true to form. In recent years, the Chicago trade show has attracted less attendance than a decade ago but the percentage of buyers has improved. C&P found new homes for the two paper cutters that were demonstrated in the booth, and discussions continue with a multitude of leads that were generated at the September 30-October 2 event.
The 45-inch SABER® SS15 was purchased by Miami Quality Printing in Hialeah, Florida, and the 36-inch PRISM® P92 is already installed and running at Karr Graphics in New York City. Bruce Peterson, C&P's President and CEO, expects more developments to happen as a result of talks that began in Chicago.
"We are close to wrapping up a deal with a printer from the Southwest and we've had several conversations with many people since the show," acknowledged Peterson. "The traffic in our booth this year was good but not overwhelming. But we remain busy quoting prices and handling inquiries about our equipment."
It's about more than just buying equipment
Peterson said customers and potential buyers find value in attending industry events such as the PRINT show for various reasons. This includes everything from seeing the equipment first hand and learning more about how it can help their operation, to meeting with company representatives and discussing key associated issues such as service, parts availability and troubleshooting support.
"The majority of people we work with respect the importance of having a reliable equipment partner who understands what it takes to have your business operate at optimal levels of performance," explained Peterson. "We have the equipment and support network to do so. Our PRISM and SABER paper cutter lines are popular and always draw people's attention. But there also is a strong market for used equipment and people were asking about our rebuilt machine inventory. In addition, we featured new PRISM jogging and stack lift equipment and that is drawing a lot of interest as well."
By adding Microcut® electronics packages to the mix, most customers often raise productivity levels 50 percent or more. Microcut is a standard feature on all new PRISM and SABER paper cutters, so the improvement is noticeable almost immediately. Print shops of all sizes can experience a plethora of benefits, ranging from reduced set-up time, more accurate and faster cut times with less waste, and quicker turnaround whether they are cutting paper or difficult substrate materials.
"Pound for pound, our PRISM and SABER paper cutters offer the best value in the market," asserts Peterson. "No other machines can match their reliability and durability, as well as all the features that make them so efficient. Any size commercial or digital business looking for a competitive edge will find it with these machines. If budget is an issue, we have rebuilt units that will fill their needs. And when you factor in the support we have to offer, it makes an affordable package even more attractive to buyers because they know we will be a partner they can trust."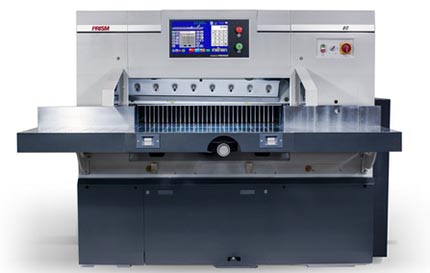 The 36-inch PRISM P92 paper cutter demonstrated at PRINT 18 was purchased and is already installed at a customer's shop in New York City.