Milford, Ohio – TLMI announces that the association has reached record numbers of both converter and supplier member companies. The surge in the association's membership follows the transition to new leadership and staff, in addition to a renewed commitment to the association's three-year Strategic Plan that was put into place in the final months of 2016.
In 1933, prominent members of the U.S. tag-printing industry voted for the creation of an industry-wide trade association. Nearly three decades later the decision was made to expand the association to include the fast-growing pressure sensitive label manufacturing sector, and 12 members attended the first official TLMI meeting in 1961 held in French Lick, Indiana. Today, hundreds of converter and supplier companies from across the North American label and printed packaging industry count themselves as TLMI members. The association continues to play a central role in the greater market, bringing converters and suppliers together to network, educate and learn while continuing to move the industry forward as a member-driven collective.
TLMI President, Dan Muenzer, comments, "All of us on the TLMI staff, the association's Board of Directors and all of our committee co-chairs and volunteers, have worked hard this past year to ensure our members are receiving tools and resources that benefit their companies. It's so rewarding to see these diligent efforts result in so many new converter and supplier members joining TLMI, and to having a more engaged membership than we ever have. Our converter members' aggregated revenues represent an estimated 65% of the entire North American label industry. As our membership levels continue to rise, we will see this percentage grow even more. The increased strength and health of the association only serves to further support all members, both old and new, as a resource for, and a voice within, the greater industry moving forward."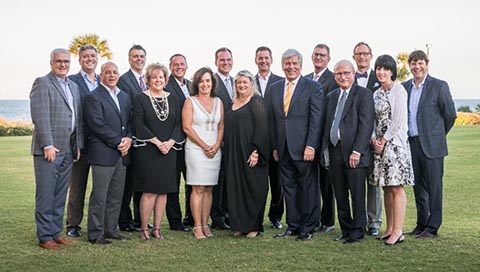 The TLMI Board pictured at the recent Annual Meeting at Amelia Island in Florida.