Flash Reproductions recently installed the DigiBook 450 Perfect Binder in their Mississauga, Ontario, Canada facility. Having spent quite some time evaluating options, they determined that the 450 Perfect Binder was the ideal piece of equipment for their particular binding needs.
"The Morgana DigiBook 450 Perfect Binder was the perfect solution for us," says Rich Pauptit from Flash Reproductions. "The 450 offers the widest range in book sizes in the category, it's easy to use and reliable, plus the finished product looks fantastic."
"The Morgana 450 PUR leads in almost every category of specification, with the highlights being its ability to bind a 17.7"-long spine and apply a cover as thick as 400 GSM," says Michael Steele, Sales Director of Sydney Stone. "Being in Canada, another key feature for us and our customers is the fact that the machine comes with a ULc certification direct from the factory, therefore eliminating the need for any special inspection prior to installation."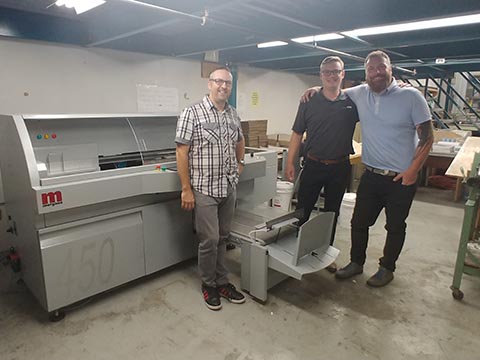 Left to right: David Gallant, Vice President at Flash Reproductions; Brennan Wright, Sales Consultant at Sydney Stone; Rich Pauptit, President at Flash Reproductions.