Leibinger is presenting its JET3up PI industrial printer for coding dark surfaces (Hall A1, Stand 1315)

Tuttlingen, Germany – Printing codes on black plastics with CIJ printers and pigmented inks: this is the dark, problematic side of product marking for many industrial companies, due to the high level of care printers for heavily pigmented inks require. Paul Leibinger GmbH & Co. KG is now bringing light to the dark with the JET3up PI – a Continuous Inkjet printer (CIJ) specially developed for this area, which will be on display at the Fakuma trade fair in Friedrichshafen from 16 to 20 October 2018.

Continuous Inkjet printers (CIJ) are among the most popular marking systems in the industry. Companies use the printers to print codes on product packaging, automotive parts, cables, pipes, and many other types of items. Tiny drops of ink fly from the print head, which is mounted directly behind an extruder or on a conveyor belt, and land as pixels on the product surface – printing batch numbers, best-before dates and 2D codes. For dark plastics, however, this type of marking only works with pigment inks, also called contrast inks or opaque inks – since conventional inks would be as illegible as the writing of a pen on black paper.

The problem: Processing pigmented inks places high demands on industrial printer hydraulics

During production breaks, the tiny particles sink to the bottom and form clumps in the printer's hydraulics and nozzle. This can result in an illegible typeface and expensive reworking. The result is that before starting up production, the company has to invest in cleaning time. But now, this is no longer necessary. "We want to give companies an opportunity to use their valuable production time productively instead of constantly having to clean their printers," says Christina Leibinger, Managing Director of Paul Leibinger, a German manufacturer of coding and marking systems from Tuttlingen in Baden-Württemberg. "That's why we developed the JET3up PI – a CIJ printer which is specially designed to handle difficult-to-process inks, greatly reducing the amount of cleaning required compared to other systems."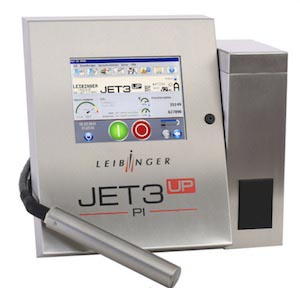 The JET3up PI from Leibinger marks product packaging, cables, pipes, wires as well as automotive and electronic parts with texts and graphics – including batch numbers, best-before dates and 2D codes.
With the JET3up PI, companies can mark product packaging, cables, pipes, wires and electronic parts on-the-fly during production. At belt speeds of up to 10 m/s, up to five-line texts and graphics in white, yellow, orange or silver-grey are printed on the product surface without contact – on request as a micro-code with a font height of only 0.8 mm.
You'll have an opportunity to see the printer at the Fakuma 2018, a trade fair for industrial plastics processing, which will be held from 16 to 20 October at the Friedrichshafen Exhibition Centre.

The solution: Airtight sealing of the ink circuit during production breaks

But why is cleaning no longer required with these printers? Because Leibinger has developed an automatic nozzle sealing system called Sealtronic. Before the ink jet in the print head turns off, the gutter tube that catches ink drops that are not used for printing automatically moves to the nozzle.
The result is an airtight ink circuit. In the printer's stand-by mode, an automatic timer activates an ink agitator in the hydraulic system that circulates the ink. Regular motion prevents pigment build-up and clumping.

Moreover, Leibinger designed the hydraulics so that they do not require external compressed air. Contamination of the pigment ink by water, oil or rust is therefore avoided. "Thanks to this combination of a nozzle sealing system and compressed-air-free hydraulics, production can be started up again immediately, even after long production breaks of several weeks," explains Leibinger. "Often months will even go by until the next cleaning."

Leibinger is presenting a further selection of CIJ printers at the Fakuma 2018: the JET One, the JET2neo and the JET Rapid PI (Hall A1, Stand 1315).