Visitors to the OKI booth will get the chance to experience printing devices designed to meet the needs of the industry -- the Teriostar series and the C911dn colour printer
Singapore – OKI is participating in BuildTech 2018 from the 22th to 24th of October. The company -- a global leader in B2B printing technology from Japan -- will give show visitors the opportunity to view the Teriostar LP-1040-MF, which is one of two engineering printer models now available in Singapore. Also on display will be the C911dn, a versatile colour A3+ digital LED printer that has a multitude of uses for print. The annual tradeshow, which is being held at the Singapore EXPO, is expected to attract visitors from the architecture, interior design and building industries. Visitors can find OKI at Hall 3, Booth J09.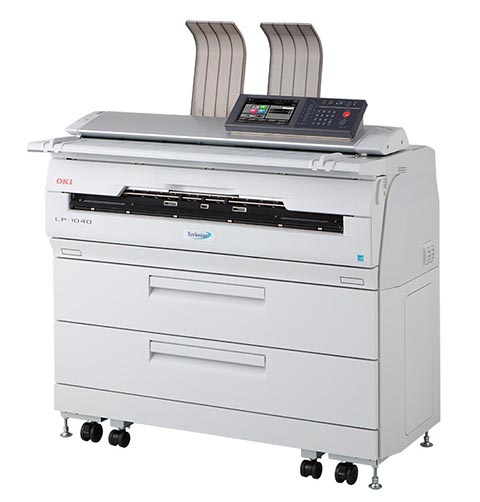 The LP-1040-MF engineering printer by OKI will be on display at BuildTech Asia 2018.
The LP-1040-MF and LP-2060-MF, which make up the Teriostar series, are wide format multifunction printers designed to boost productivity in construction, architecture, design, engineering and reprographics offices where deadlines are tight and time is money. The LP-1040-MF and the LP-2060-MF print at super speeds; up to 7 A1 size prints per minute and up to 9 A1 size prints per minute, respectively. Both models are capable of both colour and mono scanning; scan speeds of 240 mm per second plus the capability to run parallel tasks also makes workflows even faster. A unique industry feature of both models is the user-replaceable process cartridge -- essentially a combination cartridge and photoconductor drum, which would deliver significant benefits to users, such as increased uptime and reduced support costs.
There are other features which make these printers simple and intuitive to use too. For example, all controls are managed at the front by a clear 8.5" colour touch screen panel, which gives rapid access to frequently used menus, with a functional user interface. Exceptional print quality is assured with a new Print Data Converter which fixes typical problems such as speckles, slants or the kind of errors sometimes seen with scan data or file converter data. An integrated software solution -- Teriostation2 -- enables networked users to send jobs, including multiple files, using the most common file formats such as TIFF, PDF and more.
To prevent unauthorised use, minimise the risk of uncollected output, eliminate waste and control job logs, the Teriostar series offers a robust suite of security features including PIN codes, usernames and passwords. Complete deletion of hard disk drive (HDD) data is also possible, which is a useful function to have should the printer be sold, or if leased, meant to be returned to the owner.
The other focus model to be displayed at the show is the C911dn colour printer. This unique printer has been designed to meet all kinds of special needs in the construction and design industries, as well as general office applications. The C911dn uses digital LED technology and Multi-level ProQ technology to produce high definition colour printing in the sharpest and most vibrant print output available. It also offers a low total cost of ownership thanks to its attractive initial capital costs, separate toners and drums for reduced wastage, and ultra-high capacity toner cartridges for reduced operating costs.
The C911dn truly shines when it comes to media flexibility because it gives users the ability to print on a wide range of media in-house. Users can now easily print on media such as glossy paper, film, transfer paper, waterproof paper and more. Moreover, the printer is able to print on media sizes from A6 to SRA3 and banners up to 1.3 metres in length, and it is able to handle paper stock of up to 360gsm. Add these features to fast prints speeds of up to 50ppm in colour/mono in A4 size and time-to-first-print in just 8 seconds or less, businesses can thus increase their creativity and ensure that productivity remains high.
"The Teriostar models, LP-1040-MF and LP-2060-MF, can help deliver cost savings and increase productivity by maximising uptime through its ease-of-use and output quality. These multifunctional technical printers, are the essential tool for architects, engineers, designers and users who require wide format CAD printing" says Oscar Tan, manager for marketing and communications in Southeast Asia and Hong Kong.
"Likewise, the C911dn offers companies in the design and construction sectors a unique opportunity to lower their printing cost whilst at the same time increase their creativity. The device gives businesses the opportunity to create specially printed materials in-house, quickly and efficiently, without the need for print-outsourcing, plus it is so versatile that it can even be used for general office use" says Tan.
The printers are currently available through selected authorised OKI resellers. Interested parties may call OKI @ (65) 6221-3722 (main line) or email [email protected].
Visit the OKI Singapore website at www.oki.com/sg/printing.