Phoenix 7.0 becomes one of just five products recognized as a game changing technology breakthrough
Ottawa, Canada – Tilia Labs, a leading developer of planning, imposition, and automation software solutions for the graphic arts industries, has been distinguished with a Vanguard Breakthrough Award by the Association for Print Technologies at PRINT 18. The Award recognizes Tilia Labs' Phoenix 7.0 software, which is being previewed at PRINT 18 (booth 540).

Tilia Labs was presented with a trophy in a special ceremony during the Association for Print Technologies' media event on September 29th at McCormick Place, Chicago.

Part of the "RED HOT Technologies" program highlighting the newest products exhibited at the PRINT event, the Vanguard Award program recognizes products based on their merit as "game changers" for the industry in one of three categories – Breakthrough, Pioneer and Collaborative. As recipient of a Vanguard Breakthrough Award, tilia Phoenix 7.0 is recognized by the committee as a "breakthrough that helps advance an existing technology or process and open new business opportunities for end users." It is one of just five entries to gain recognition as a Breakthrough Award recipient, and only one of nine total recognized products in the entire Vanguard program.

"With the 7.0 release we're extending the reach of Phoenix beyond print applications to include folding, binding, stitching, and cut and stack processes," explains Sagen de Jonge, CEO of Tilia Labs. "Our customers and partners say that Phoenix is already the fastest and most dynamic cross-platform print planning and imposition solution. We're confident they'll find Phoenix 7.0 closes the loop in delivering similar efficiencies through the entire print production workflow."

tilia Phoenix 7.0 is the first solution that enables sheetfed and roll-fed printers to manage imposition, ganging and nesting for all print and postprint processes from a single source, across even the most complex production operations. Incorporating digital and conventional print output, stackers, cutters, stitchers, binders and distribution systems, the system will search across potentially millions of layout possibilities, enabling fast accurate estimates, reducing pre-press time, maximizing media usage, and reducing post-press complexity. Integrated into the printer's chosen workflow or MIS system, changes made to artwork files outside of Phoenix are automatically detected and updated and the system dynamically adapts.

The new 7.0 release includes improvements for template-based planning and optimizations in the nesting algorithms for large sheets and rolls in the four-meter and above ranges. Updated rules manage how products with special inks or print embellishments are laid out to optimize efficiency. Major estimating and reporting enhancements in Phoenix 7.0 allow for better analysis, accountability and future planning, including press-time granularity down to the nearest second.

"2018 just keeps getting better and better for us!" says de Jonge. "After an EDP award for our Griffin Pro App at Fespa in Berlin earlier this year, the Vanguard Award is the icing on the cake. We're a young company with, we believe, a lot of smart solutions that the industry needs to know about. This award provides a springboard to showcase the progress we have made in a relatively short time in delivering groundbreaking production efficiencies."

Separately, Tilia Labs' Griffin technology for large-format applications has also been recognized in the lineup of RED HOT Technologies at Print 18. Showing as part of the Enfocus exhibit on booth #736, the tilia Griffin Pro App can be seen integrated with the core Switch automation platform. Based on the tilia Griffin desktop application for wide-format planning and imposition, the Griffin Pro App was developed by Tilia Labs as a fully self-contained app available exclusively via the online marketplace of the global Enfocus Switch user community.

For more information on Phoenix 7.0 at Print 18 click here.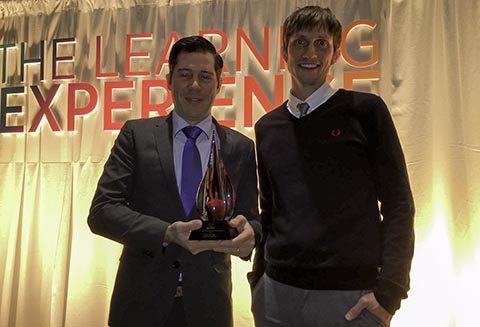 Sagen de Jonge, CEO, (left) and Scott More CTO of Tilia Labs with their Vanguard Breakthrough trophy.