Rochester, N.Y. – TLF Graphics in Rochester, NY is a label printing company committed to producing high quality print products, under demanding timelines. TLF Graphics offers advanced printing solutions to solve most complicated challenges. "We knew that the RSC technology was ideal for our business, and that it would provide us with the best quality, faster turnaround and reduced printing cost. There are several key players in the market and we also have other digital equipment" said Bob Mc Jury Partner at TLF Graphics. "However, when we looked at re-engineering our total digital and flexo printing environment to make it more efficient and profitable, we knew that adding the RSC Technology to our digital printing factory was the right choice."
Durst will be showcasing the latest developments in UV inkjet technology, web-to-print solutions and more at the upcoming Labelexpo 2018 show in Chicago, September 25-27th, Hall F, Booth # 5901. Moreover, OMET, will be showcasing an inline hybrid solution featuring the X6 technology, and powered by the Durst Tau 330 RSC. Additionally, our focus will be on the power & functionality of the Durst Workflow software, which helps simplify issues with customer files without having to go back to pre-press or Illustrator to make necessary changes.
About the Tau 330 RSC Press
The Tau 330 RSC is a digital UV inkjet labels and packaging Press with a print width of 13" and a printing speed of up to 255.10 feet per minute. This corresponds to a production capacity of 15,984 sqft per hour at a print resolution of 1,200 x 1,200 dpi. Equipped with optional 8 colors (CMYK + W + OVG) for the newly developed, highly pigmented Durst Tau inks, the printer produces outstanding near-flexo print quality and achieves up to 95% simulation of the Pantone color space. In accordance with the Durst Tau motto "Configure Your Digital Future", the Tau 330 RSC works as a stand-alone printer or as a hybrid solution with the addition of conventional finishing options in the OMET XFlex-X6 series. This gives the user unlimited flexibility and reduced production cost in terms of materials and a broad range of applications.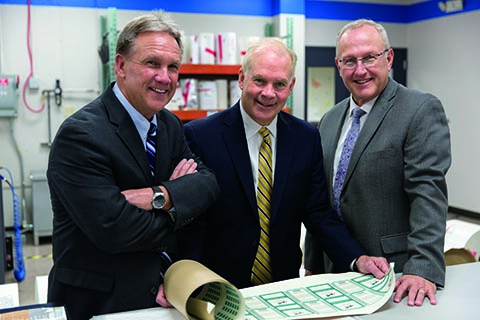 Left to right: Bob McJury - VP Sales & Marketing, Dan Wagner - VP Operations, Ron LeBlanc - VP Finance.