Book printer CPI Group cites quality, up-time and perfect sheet-to-sheet registration as the reasons behind Jet Press 720S investment decision

With seventeen factories across Europe, seven of them in the UK, CPI has its UK book cover printing in a single site in Croydon, south London and invested in a Jet Press 720S to ensure that its short-run book jackets, covers and illustrated sections are produced with the maximum quality and reliability. CPI's Jet Press 720S was installed in July 2018.

"The Jet Press 720S had been on our radar for a few years," says Jamie Stanborough, Operations Director, CPI Books. "And when we made the decision to focus exclusively on book printing at this location, it became the clear and obvious choice to handle the increasing number of short run jobs we're being tasked with. We made the decision to move our existing digital presses to CPI Colour, our commercial printing site close by - which will now handle all of our general commercial print work - leaving our facility to focus exclusively on book printing.

"Our location in Croydon is the colour centre for all our UK binding sites. We have six litho presses and a full and extensive range of pre-press and finishing equipment, which deliver some three million book jackets and covers to our UK binding sites every week. These include covers for some of the biggest names and brands in publishing such as the Harry Potter series, David Walliams, Sarah J. Mass and Game of Thrones.

"The majority of this work is litho printed, but publishers are increasingly reluctant to hold on to inventory and are looking to print shorter runs more often. That's where the Jet Press really comes into its own. Colour matching to litho is straightforward and the colour consistency is exceptional. With the Jet Press we can be 100% confident that a re-print months or even years later will be a precise match to the original. Perfect page-to-page registration gives us the ability to add specialist finishes with confidence, while the excellent uptime means that the Jet Press should produce more work than many faster digital presses. It's extremely well-built and operates much like a litho press, which is exactly what we need."

Says Fujifilm UK General Manager Chris Broadhurst. "To meet increasing demand for short run work, CPI needed a digital press with flawless colour consistency, perfect sheet-to-sheet registration and exceptional quality. The Jet Press 720S has been put to the test by more than a hundred print businesses around the world, and in these three categories it has been proven to be a true market leader. We're delighted that CPI has recognised this, and as the trend within the book printing industry towards shorter runs continues, we look forward to working with them to ensure the Jet Press brings maximum benefit to their business."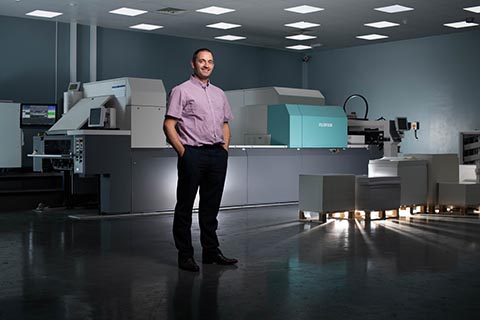 Jamie Stanborough, Operations Director, CPI Books.