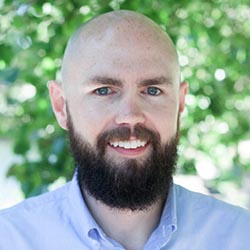 Denver, Colo. – Casey O'Hara, Vice President of Technology for PrintReleaf, was recently honored by ENX Magazine. O'Hara was named a 2018 Difference Maker of the Document Technology Industry, the cover feature in the May 2018 issue. Commended by the magazine for his user interface designs and his passion for building solutions at the intersection of print technology and environmental sustainability, O'Hara oversees the development of PrintReleaf technology, including the PrintReleaf product suite, integrations platform, infrastructure, and developer operations. The magazine article said: "His vision and execution helped PrintReleaf emerge as a leader in the environmental technology market."
Responding to the honor, PrintReleaf CEO and Founder Jordan Darragh commented: "Casey O'Hara, while focusing primarily on product and software development, adds value to every aspect of the PrintReleaf organization, including culture, brand, finance, customer service, and the development of forestry standards. Moreover, he is a trusted colleague to our integration partners."
PrintReleaf creates a global sustainability standard by certifiably guaranteeing to releaf the paper consumption of PrintReleaf customers. PrintReleaf is the only technology platform that measures customers' paper usage and certifiably reforests that usage on an equivalent basis. The patented PrintReleaf technology not only tracks paper consumption, but also monitors PrintReleaf reforestation partners to ensure fulfillment. Market-leading companies with a passion for the environment and a progressive concern for advancing environmental stewardship, together with their customers, rely on PrintReleaf to provide a nexus of partnerships involving forestry, technology, and business. For more information, please visit www.printreleaf.com.