European Digital Press Association (EDP) award recognizes printQ 3D Packaging Design for best special application special application software
Houston, Tex. – Released in late 2017, the new CloudLab printQ 3D Packaging Design has been recognized for a major industry award. CloudLab, a leading developer of eCommerce, Online Design Editors and Online Preview solutions for the graphic arts industries, received the award on May16th during the FESPA 2018 show in Berlin, Germany.
CloudLabs' award was in the category of "Best Special Application" recognizing our application that enables online design and management of packaging projects along with the workflow automation capability to eliminate unnecessary overhead costs and time managing the customer files associated with the project. The Technical Committee commented: "The printQ 3D Packaging Design is a strong and exciting combination of a web to print E-Commerce solution and custom packaging. It takes packaging design and printing on a new level."
The printQ 3D Packaging Design takes eCommerce print solutions, web to print and online print shops to a whole new level. More than that, it heralds the beginning of a new era in the print industry demystifying packaging projects for the amateur while providing tools for the professional designer.
CloudLabs' new stand-alone 3D editor allows customers to build and design their packaging themselves! In our editor library we offer ECMA packages, which your customers can use as the foundation for their own design adding their own branding elements online. All sorts of graphical content and customizable sizes and shapes for the product are possible. With, height, depth and potentially substrate thickness - although this can be automatically calculated for the user based on their selection of substrate - are the only values they need. Within milliseconds, the printQ 3D Packaging Design creates the 3D model for the preview, the die-cut and the canvas in the designer. The PDF and CF2 files are automatically created for production, based on user-entered variable dimension values within parameters defined by the print service provider, enabling workflow automation and reducing overhead costs.
The key innovation is the dynamic creation of a 3D model. It is possible to design a variable sized packaging product according to your individual requirements and artwork. Thanks to the instant preview that is generated dynamically you will see what you get: a realistic 3D visualization of your own packaging product - in any size.
PrintQ is HTML5-based and supports responsive web design which renders well on a variety of devices and window or screen sizes and enables a particularly straightforward design experience. If you already have an eCommerce portal, you can quickly and easily offer your packaging products in your external storefronts by using our printQ Connector.
Nico Olejniczak, CloudLab Sales Director was honored to accept the EDP award on behalf of the CloudLab team. EDP is comprised of industry experts representing 21 Trade Journals focused on digital technologies impacting the printing and graphics industry. Their selection of CloudLab 3D Packaging Design confirms that our development efforts were on target and will have broad worldwide appeal delivering tremendous value to our clients.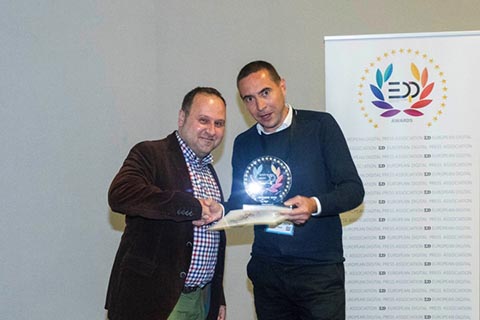 Nico Olejniczak , Sales Director of CloudLab, receives the EDA Award for special application software from Lorenzo Villa of Italia Publishers.