Bangkok – Rhyguan, one of the world's largest manufacturers of converting machinery, held rewarding talks with new customers and partners while attending the inaugural Labelexpo Southeast Asia 2018, May 10-12, at the Bangkok International Trade & Exhibition Centre (BITEC).
Three machines on display
The converting machine manufacturer displayed their Kiss-330-SD flat bed die cutting machine and Top-330-DDS double semi/full rotary die cutting machines on their 60sqm stand, as well as a Smart-420-HMS inspection machine on the AVT stand. Visitors, mainly from Thailand, Malaysia and India, showed great interest in the product offerings, and Rhyguan held rewarding talks with big label groups and press manufacturers on future cooperation.
A very nice show in Bangkok
"We had a very nice show in Bangkok – there were many visitors, and we had some very interesting conversations on matching our product portfolio with new customer needs and requirements. For people who missed the event, the Kiss-330-SD and the Smart-420-HMS will now show at Press Systems Group's showroom, our agent in Thailand, while the Top-330-DDS is currently being installed at Simat Technologies, where employees are also going through press operation training," says Lavida Jiang, Export Manager, Rhyguan.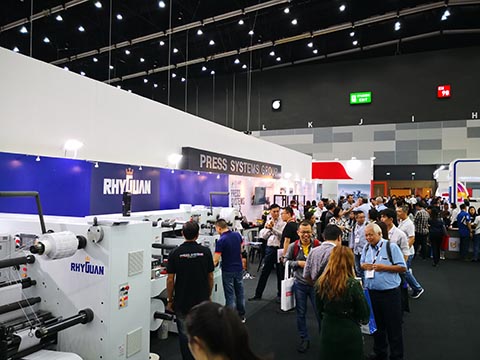 The Rhyguan & Press Systems Group booth was very busy from start to finish during the inaugural Labelexpo Southeast Asia in Bangkok.