West Chester, Ohio – Color-Logic has certified the Komori H-UV press for metallic printing using the Color-Logic Process Metallic Color System.
Discussing the certification, Color-Logic Director of Sales and Marketing Mark Geeves commented: "Wallace Carlson Printing was an early adopter of the new Komori H-UV Press, which employs special print and coatings effects to shorten time-to-market. When combined with Color-Logic decorative effects and the 250 metallic colors available in one print pass, the Komori H-UV press enables Wallace Carlson brand clients to truly differentiate their packaging and collateral material. The certification examples submitted by Wallace Carlson demonstrate their knowledge and skill in applying the Color-Logic process. The combination of Komori and Color-Logic is expected to open new markets and applications for Wallace Carlson."

Wallace Carlson Printing is a certified woman-owned company founded in 1931. The company won Best in Show 2016 in the Printing Impressions Gold Ink competition, and is a FSC Certified Printer and a Rainforest Alliance Partner. Wallace Carlson specializes in marketing collateral, retail and product catalogs, packaging, and direct mail. For more information see www.wallacecarlson.com.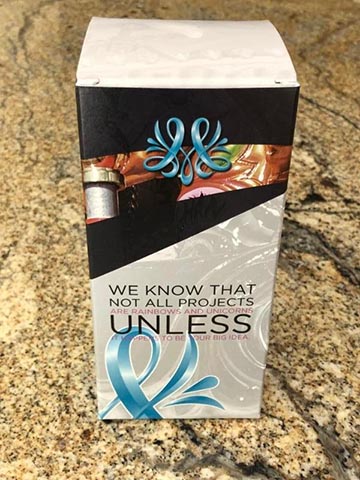 Wallace Carlson Self-Promotion Piece using Color-Logic.