Booth 419 demonstrates simplified operation and bottom-line benefits of AutoMounter technology

Manchester, UK – Maintaining its focus on new solutions for streamlining print production, JM Heaford, industry-leading supplier of mounting and proofing solutions for the tag and label, flexible packaging, corrugated and gravure markets, will be highlighting automation opportunities at INFOFLEX 2018 (May 7th – 8th) at the Indiana Convention Center, Indianapolis. Exhibiting on Booth 419, a wide-web Heaford AutoMounter will be demonstrating features and technologies developed to deliver consistent, high-speed accuracy at the push of a button. This year's INFOFLEX is also the first public event for Heaford following the appointment of new representation in the USA.

Now installed across five continents, Heaford AutoMounters are commonly achieving return-on-investment in less than a year. The booth at INFOFLEX will feature plate mounting demonstrations illustrating the key characteristics of the technology for delivering a quick return. These include ease-of-use, quick setup, and high-speed precision.

In standard widths up to 1800 mm and a repeat range up to 1350mm, the AutoMounter configuration features an innovative approach to the conventional. With a cantilever mandrel mounted above motorised cameras and patented printing plate manipulators, developed to give plates stability due to their unique curved design, the design gives the operator unparalleled access while also keeping the footprint to a minimum by eliminating the need for complicated front and rear table systems. Set-up is straightforward and quickly adjustable via on-screen icons allowing multiple positions to be set and stored, with the ability to store and recall over 100,000 jobs.

The operator is required only to roughly position the plate on the manipulators so that targets/register marks are visible, and then press the foot pedal. At this point, the AutoMounter takes over entirely. Using dual axis, independent, closed-loop controls, the printing plates are accurately positioned and adjusted according to print repeat, plate thickness, and tape thickness. Each plate is mounted with a positional accuracy of +/- five microns in less than one minute.

US Flexo Solutions is now responsible for sales of all Heaford flexographic mounters and proofers in the USA, with ongoing support from the dedicated Heaford installation, service and parts teams, including JM Heaford's US-based installation and service engineer.

According to Gregg Gayle, founder of US Flexo Solutions, the speed and hands-free accuracy of the Heaford AutoMounter are key to providing immediate productivity benefits that lead to superfast return on investment: "Heaford has the winning formula because the automation is paired with registration that is fast, reliable and repeatable. The plate is mounted perfectly first time, every time. It means that the press is never waiting for remounting of plates as mismounted plates are a thing of the past – as are all the costs, waste and lost time associated with them.

"But perhaps even more significant is the fact that literally anyone can operate the AutoMounter with the same results, providing a consistent, repeatable process," concludes Gayle. "Essentially, with the AutoMounter, Heaford have succeeded in de-skilling the plate mounting process, freeing up skilled prepress personnel to be more usefully engaged elsewhere. Our first US users are delighted with the competitive edge they have gained through these efficiencies – so much so they plan on ensuring it remains a well-kept secret!"

Gayle, along with JM Heaford Directors Sally-Anne Heaford and David Muncaster and Heaford's US based service engineer Gary Zima, will be at the INFOFLEX Show to meet customers, conduct AutoMounter demonstrations, and discuss with interested parties how they can calculate precisely the gains to be made from investing in Heaford automation.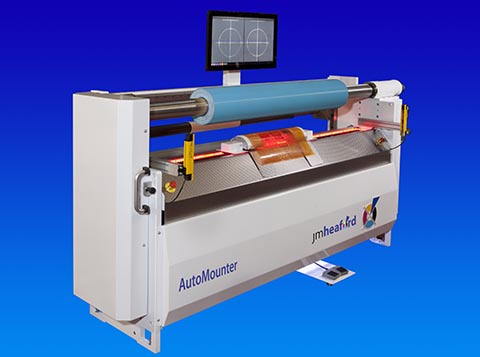 On Booth 419 at INFOFLEX, a wide-web Heaford AutoMounter will be demonstrating features and technologies developed to deliver consistent, high-speed accuracy at the push of a button.