Includes Iconic 7-Eleven Slurpee® Cup and 7-Select® Private Brand Items
Cincinnati, Ohio – Brandimage, a leading global consultancy of brand equity architects and designers, has been honored with three awards recognizing packaging design excellence for 7-Eleven in the GDUSA 2018 American Package Design Awards.
Winners of the GDUSA American Package Design Awards are those select creative and marketing talents who best use the power of design to advance the brand promise and forge an emotional connection with the buyer at the moment of truth.
"The American Package Design Awards is a testament to the power of design-forward brand essence beautifully activated," said Don Childs, chief creative officer, at Brandimage. "Not just beautiful design, but a meaningful story and powerful results that connects brands with consumers through packaging."
"The primary goal of the Slurpee cup packaging redesign was to contemporize and celebrate the magic of this much beloved iconic brand," said Childs. "The resulting design solution focuses on bringing a sense of kinetic fun to a new look that is irresistible to kids of all ages, stirring up nostalgic memories and enticing new generations."
In the Food + Beverages (non-alcoholic) category, Brandimage was awarded three Certificates of Excellence for its package design:
7-Eleven Slurpee Brand Redesign
Brand Owner: 7-Eleven
7-Select Organic Juice
Brand Owner: 7-Eleven
7-Select Dried Fruit
Brand Owner: 7-Eleven
Childs concluded: "We are fortunate to work with a visionary client like 7-Eleven that understands the power of meaningful brand design and the role packaging has in inspiring action and influencing consumers to purchase and repurchase."
To view all 2018 American Package Design Awards winners, visit:
http://contests.gdusa.com/competitions/2018-american-package-design-awards.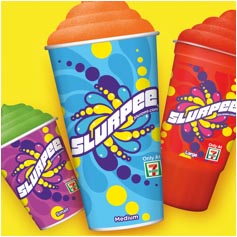 7-Eleven Slurpee Cup Redesign