Gammerler (US) Corporation and GammTech Corporation are pleased to announce that, effective immediately, they are merging to form a new company, GammerlerTech Corporation.
As leading industry pioneers and innovators, Gammerler (US) and GammTech bring years of post-press application know-how and product development expertise together under the GammerlerTech banner. The new company will be able to offer commercial printers and newspapers in North America a combined product solution portfolio that is unparalleled, as well as even more comprehensive parts and service support for new and existing Gammerler and GammTech customers than either company could previously provide individually.
"We'll be moving the entire combined company into a new, larger manufacturing facility here in Florida this summer" said new GammerlerTech CEO Gunter Gammerler, "and we're very excited to be expanding our combined presence in North America. Our shared history makes this merger a natural fit, and will position us to significantly better serve all of our collective customers in every capacity".
GammerlerTech will be headquartered at the current GammTech facility in Palmetto, FL, until the move to the new location later this year.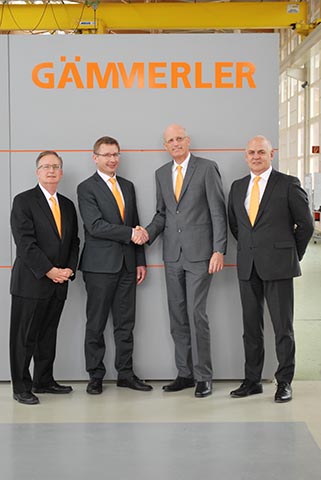 Left to right: Joe Jastrzebski (Gammerler (US) Corporation), Dr. Michael Schwarzer (Managing Director, Gammerler GmbH, Gunter Gammerler (CEO, GammerlerTech Corporation), Erich Wirthwein (Managing Director, Gammerler GmbH).