Second annual fundraising event honors late chapter leader, La Salle Academy alumnus, and legendary direct marketing executive Jim Prendergast.
Alexandria, Va. – The New York City Chapter of Idealliance, the global association for the Graphic Communications Industry, raised $7,500 for Manhattan's La Salle Academy at the second annual James W. ("Jim") Prendergast Memorial Fund Raising Event on March 15 at Club 101 in New York City. Long-time leader of the chapter, the late Jim Prendergast was a graduate of La Salle and an avid supporter of the school.
"Tonight, you stepped up and made a difference," said Dr. Cathy Guerreiro, La Salle's President, at the St. Patrick's Day themed event. "Your fundraising efforts will add to our Jim Prendergast Memorial Scholarship Fund, and help some needy, worthy young men attend our fine school. Our students, who usually come from disadvantaged backgrounds, are only asking for a chance. Tonight you're giving them their shot."
La Salle Academy is a unique and progressive preparatory high school with a rich history. The third oldest Catholic High School in New York City, it has been providing educational, spiritual, and athletic opportunities to young men for 170 years. By their ethnicity, La Salle's students are 52% Hispanic, 23% African American, 9% Caucasian, 8% Multiracial, and 8% Asian.
"Your presence here would make Jim proud, for La Salle Academy was the cause closest to his heart," New York City Chapter President Marty Rego told the event attendees, who included Jim Prendergast's widow and daughter.
A legendary direct marketing executive and leader of the New York City Chapter for many years, Jim Prendergast was a member of the LaSalle Academy Class of 1948 and credited the school as being an instrumental part of his success. He was a dedicated LaSalle alumnus and active member of the La Salle Development Team until his death last year at the age of 86.
Jim was also deeply committed to leading Idealliance's New York Chapter and is fondly remembered for his warmth, wit, and grace by all who attended the chapter's meetings and other functions. For more information on activities of the Idealliance New York Chapter, contact Marty Rego of Century Direct at [email protected].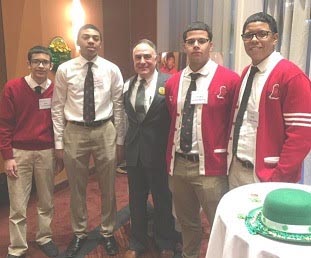 Marty Rego, center, President of Idealliance's New York City Chapter, with La Salle Academy Jim Prendergast Memorial Scholarship Fund recipients at the Chapter's March 15, 2018 fundraiser.