The honoree was selected from a number of esteemed IADD members, many of whom have spent their careers in the diemaking and/or diecutting industries.
Crystal Lake, Ill. – The International Association of Diecutting and Diemaking (IADD) has selected John Gordon as the recipient of the IADD Lifetime Achievement Award. Gordon has been an active member of the IADD since 1983. In addition to serving on the board for seven years, Gordon has encouraged his employees to become IADD members and take on board leadership roles.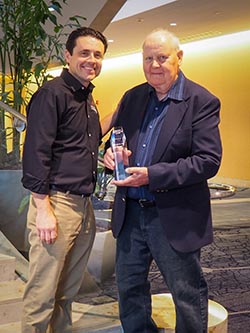 As well as being highly involved in the IADD, Gordon's impressive professional background was considered in the award's selection process. After working for a company that manufactured flex graphic printing plates and steel rule cutting dies for the corrugated market, Gordon and his wife, Joann Gordon, founded Jonco Die Company Inc. in 1965. While the company's humble beginnings included a handful of employees in the Gordons' basement in their Brooklyn Center, MN, USA home it has now grown to 82 employees in a 45,000 square-foot facility in Mounds View, MN, USA.
Under Gordon's leadership, Jonco Die Company Inc. has been an innovator within the industry. The company holds 3 patents and one pending directly related to converting, was the first diemaking company in its market to install a CAD system and CAD driven plotters and was the first company to offer laser cut dies, counterplates, machine processed rule and water jet cut rubber in the markets they serve.
According to Gordon's nominator, Dan Johnson, Gordon has been inspired by his involvement with the IADD and has been eager to share the IADD with his staff. "In 1994 John introduced me to the IADD. For the past 16 years he has encouraged me in the value this association brings to the industry. He is recognized by many in this industry as a true friend and patron to both the industry and the association… [Gordon] often shares with us that the IADD has been a large part of our success; not just by taking in everything, but by giving back to the association through our service commitment to the IADD."
Gordon was presented with this award at the 2017 IADD•FSEA Odyssey in Schaumburg, Ill., USA.
For more information, call Juliana Leprich at 1-815-455-7519 or email [email protected].