West Chester, Ohio – Color-Logic has certified the HP Indigo 30000 digital press for metallic carton applications. Confirming the certification, Color-Logic CTO Richard Ainge commented: "Test forms and samples files from the HP Indigo 30000 have confirmed the ability of the press to produce all Color-Logic decorative effects and our 250 metallic colors with excellent results. The digital HP Indigo 30000 also enables brands to take advantage of Color-Logic Security-FX techniques in the design and use of variable metallic data for addition security capabilities. The Color-Logic system and design tools are perfect for any brand desiring to differentiate themselves from the competition. The size and format of the HP Indigo 30000, together with its production speed, open up new markets for licensed Color-Logic printers in the packaging and POP markets.
Color-Logic™ develops color communication systems and software tool sets for a variety of special effect printing applications. Color-Logic provides brand owners, product managers, corporations, and their advertising agencies the ability to differentiate themselves and their clients with a simple print production process that yields dramatic results. Color-Logic decorative effects utilize the existing workflows of printers and designers, yielding dynamic results without the use of special equipment. Color-Logic supports the value of print and works with designers and printers to enhance their printed media. For more information, visit www.color-logic.com or call +1-513-258-0047.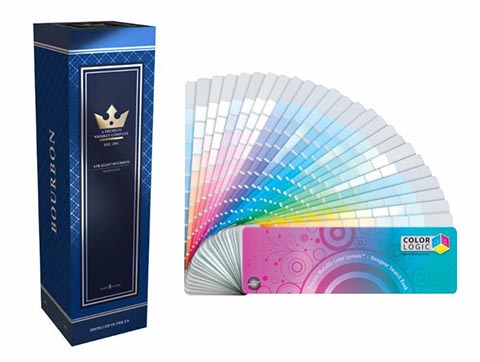 Color-Logic Metallic Package and Swatch Book.