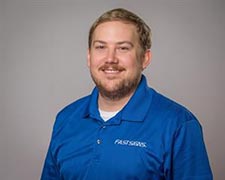 Carrollton, Tex. – Grant Walker, Business Consultant at FASTSIGNS International, Inc., has been invited to join the International Sign Association's (ISA) Elite program, recognizing the next generation of sign, graphics and visual communications industry leaders. Walker is among only 36 young professionals worldwide chosen for this year's program.
Grant Walker Selected to Join Elite Program for Emerging Leaders in the Sign, Graphics and Visual Communications IndustryThe ISA Elite program, now in its fourth year, includes three nights' hotel accommodation and free entry to all education sessions at the ISA International Sign Expo. It also includes unique networking opportunities with fellow professionals and industry leaders. A two-day follow-up leadership retreat will be held in the fall.
"Our association, tradeshow and industry have been transformed by the energy that the ISA Elite brings each year," said Lori Anderson, ISA president and CEO. "Already, past Elite members are giving back by serving on committees and boards of the ISA and ISA regional affiliates. We're excited to have Grant Walker join this prestigious group, and we look forward to the insights that each member of the 2018 class brings."
Walker grew up in the sign and graphics industry helping run his family's FASTSIGNS® franchise business in Lubbock, Texas. He helped the FASTSIGNS centers in various roles from production to sales to operational management. He earned a bachelor's degree in Business Management from Angelo State University in 2009 and his Master of Business Administration with a focus in entrepreneurship in 2011. He joined FASTSIGNS International, Inc. as an inside Business Consultant and later became a new center Business Consultant, where he helped open more than 60 new FASTSIGNS locations. In his current position, he oversees a variety of franchise support initiatives to help franchisees improve their business management, operational efficiency and profitability.
"I'm honored to be a part of the 2018 ISA Elite class and to participate with other emerging leaders in the industry," Walker said. "I look forward to learning about new products and technologies at the ISA Sign Expo so that I can share this knowledge to help our FASTSIGNS franchisees be more successful. One of the biggest things I have always loved about the sign and visual communications industry is the variety of products and capabilities; there are so many different niches to explore. At FASTSIGNS, we use the term 'solution selling' because we do not just sell products, we sell solutions."
The ISA International Sign Expo takes place March 22-24, 2018 at the Orange County Convention Center in Orlando, Florida, with education events starting on March 21. Learn more at www.signexpo.org.