Two for one: popular wireless headphones and special short-run orders printed on high quality offset presses with 15-day turnaround and no plate or die charges
For firms seeking an additional reason to order dazzling short-run packaging for their products, SoOPAK, a leading North American short-run offset packaging specialist, is awarding free Apple AirPod wireless headphones to customers that place a monthly box order of $5,000 before March 31, 2018. AirPods are one of the most popular and fastest selling phone accessory items since they were launched in December 2017.
"Our goal at SoOPAK is to provide the highest quality package, top-notch service, and help our clients easily succeed in finding the best short-run packaging product for their needs," says YaJun (Carol) Jiang, president of SoOPAK. "Our package products are a mixture of simplicity and magic using our renowned sophisticated technology, just like these Apple AirPods. We're rewarding our customers with a special limited time offer of Apple's popular AirPods for free along with a box order."
Since their introduction in December of 2017, Apple AirPods have become a must-have phone accessory and a best seller. They work with all devices, such as Apple iPhones, Apple Watch, and Apple iPads, and connect instantly after a simple one-tap setup. They can sense when they're in a person's ears and can pause when they are taken out. Apple is proud to announce that it offers a unique five hours of listening time on one charge on its AirPods. Apple has devised a voice accelerometer that recognizes when a user is speaking and works with a pair of beam-forming microphones to filter out external noise and focus on the sound of a user's voice.
"SoOPAK is proud to be a fast-growing company due to our high quality box production, our sales and service department, and the perfect solutions that we provide our savvy customers," says Jiang. "We produce stunning visual image in a protective carton that promote all types of brands. Our production team works closely with our customers to completely understand that they need a fast, affordable method to package their products. What makes us stand out? Our easy to use quoting system and our box solutions can be customized to fit a customer's specific product. Not only that but our turnaround time is fast and efficient due to our manufacturing facility being headquartered in Canada where we do all of our printing on high quality offset presses."
Customers who place a box monthly order of $5,000 or more will receive a free Apple AirPod as SoOPAK's way of thanking them. To acquire this special gift, a SoOPAK customer within the U.S. or Canada must provide their order up until March 31, 2018, 11:59 EST; and approve/confirm their order within 60 days so that SoOPAK can place the order into production. The order's value shall not include any applicable shipping fee, CAD sample fee, mock-up fee, artwork design service fee, or applicable taxes.
SoOPAK is a leading manufacturer of short-run package production starting at 500 pieces. The firm offers custom food packaging, incorporating unique shapes, sizes and styles to meet a food vendor's needs. Equipped with the most high-tech printing and post-press equipment and an experienced team, its products are of the highest quality, and are developed and delivered within 15 business days (or five to 10 on rush orders). Its high level of integration in product capabilities includes in-house prepress services, plate making, UV coating, embossing, and windowing capabilities. SoOPAK's production process is extremely efficient and highly customizable making it the preferred choice for businesses across North America. SoOPAK offers its services to small business owners and large-scale corporations with some of the most competitive prices in the industry.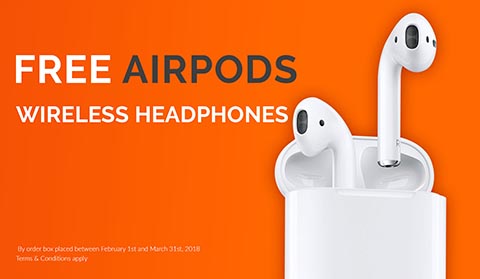 Free Apple AirPod wireless headphones are being offered by SoOPAK, a leading short-run packaging firm, for special holiday box orders.