St Albans –Attendees at the forthcoming Sign and Digital UK show will be able to see four different digital cutting systems from Zünd UK Ltd.
Taking place at Birmingham's NEC from April 24th to 26th 2018, Sign and Digital UK is a must-visit event for all professionals in the signage, display and graphics sector.
As such, the three cutting tables on the Zünd UK Ltd stand (K30) will all be configured for different applications. Firstly, a Zünd G3 3XL1600 will demonstrate textile finishing – ideal for businesses specialising in soft signage and those looking to diversify into different markets.
The Zünd team will also be showing high-quality routing and polishing on a Zünd G3 L2500, fitted with the RM-L 3.6 kW router module. Launched last year, the RM-L module features a pneumatic clamping system and offers a routing depth up of to 50mm on a variety of materials, with surface compensation for precise routing and engraving on different material thicknesses.
The third machine on stand K30 will be a Zünd S3 L1200, fitted with a robotic arm to show its speed and accuracy in automatically picking cut parts off the machine bed. This accelerates processes for a range of applications within the sign industry, freeing up operators' time to prepare the next job.
In addition, a fourth Zünd system will be on display at Canon's stand (H10). This will be a Zünd S3 M1600, showcasing high-speed cutting of both roll and rigid media for an almost seamless workflow with Canon printing equipment.
These are just some of the applications and materials compatible with Zünd digital cutting tables, thanks to their modular configuration. Built in Switzerland to incredibly high quality and safety standards, every Zünd machine is designed to be upgraded and retrofitted with new modules, tools and software at any time. As well as providing a future-proof investment, this enables users to explore new and complementary markets without having to buy an entirely new system. Zünd UK Ltd also ensures its customers are supported by its engineer team, based in St Albans, throughout the extensive life of the machine.
Commenting on Sign and Digital UK 2018, Matthew Tillett, Sales Manager of Zünd UK Ltd, says: "We're delighted to be partnering with Canon for this year's Sign UK show. It's a brand known for its outstanding quality printing equipment and is therefore an excellent match for our cutting systems.
"The four Zünd tables on display at the NEC this April will demonstrate excellently the versatility of the Zünd range in general and these machines specifically; fitted with different tools and modules, visitors will be able to see just some of the many options open to them."
Sign and Digital UK will be held at the NEC in Birmingham from April 24th to 26th 2018. To book a meeting with Zünd UK Ltd on stand K30 or with Canon on stand H10, or for further information on Zünd cutting systems, please email [email protected] or call 01727 833003.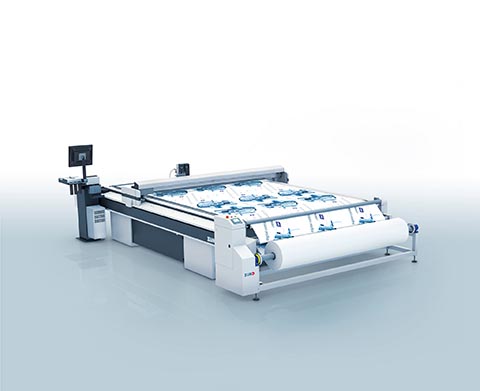 Zünd UK Ltd will demonstrate a total of four cutting tables in April.