Flottman Company's new Stahlfolder TH-82 by Heidelberg with full automation will provide additional fold patterns and increased manufacturing efficiencies - more capabilities and faster production.
Cincinnati, Ohio – Northern Kentucky – Flottman Company is a third generation, family owned and operated printing company is a leading provider of miniature printed and folded instruction for use leaflets (IFUs), direction for use leaflets (DFUs), patient information leaflets (PILs aka: inserts) and Food and Drug Administration required medical content inserts. For over 40 years the Flottman Company has pioneered the miniature printing and folding industry. The installation of the Stahlfolder TH82 is a direct reflection of Flottman Company's continued commitment to grow and serve the pharmaceutical, medical device, nutraceutical and consumer packaged goods markets. The improved performance and enhanced production speeds will enable Flottman Company to provide a newly diversified product line with manufacturing capabilities that deliver additional pieces per minute at speeds upwards of 30% faster than before.
"The Stahlfolder TH 82 will enable us to continue our growth across all production markets that utilize miniature printed and folded inserts, stated Peter Flottman Vice President of Production for Flottman Company. He continued, "We will be able to do all the folds we previously provided with increased efficiency and add to our portfolio new fold patterns that will enhance our product offering. This is a move for our company that will benefit our partners immediately and for years to come."
The Stahlfolder TH82 is a unique and versatile high speed folding machine boasting hundreds of fold configurations, including parallel, right angle and gate folds. The Stahl TH82's modernized, state-of-the-art intelligent automation process will enable reduced set up times, precise computer patterned designs and repetitive high-capacity outputs. The machine comes equipped with a touchscreen Monitor and Talkback Controller (MTC control system) that makes set-up and run as easy as four clicks. The complete automation of the TH 82 allows the machine to be formatted with direct keys for primary fold functions. The low-profile load table is ergonomically built for easy and stress-free loading. The Stahlfolder TH 82 also allows for a greater flat size (up to 32" wide), a wider range of substrates and the ability to increase throughput by 50 percent. According to a Heidelberg USA representative "…the Stahlfolder TH 82 offers maximum flexibility, productivity, quality, consistency and performance."
The Stahlfolder TH 82's technology was recognized by the Graphic Arts Technical Foundation (GATF) and the Printing Industries of America (PIA) as one of the year's outstanding technological innovations. It received the prestigious InterTech Technology Award and was named Printweek's Star Product.
Currently installed and functioning at Flottman Company, the Stahlfolder TH82's inaugural run produced twice the quantity of pharmaceutical inserts needed and in a fraction of the time allotted. This strategic investment will replace competitive technology formally on the production floor, while increasing production abilities and enhancing performance efficiencies.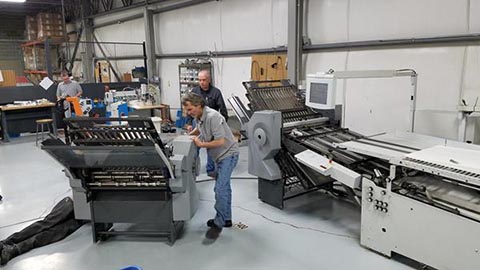 Flottman Company's new Stahlfolder TH 82 installation process - fully automated, more efficient and more productive.