St Albans – The super-efficient new LM 100W Laser Module from Zünd UK Ltd is now on show at the precision cutting brand's UK HQ, demonstrating Zünd's continued reach into the fabric and textiles market.
Launched at the end of 2017, the LM 100W Laser Module is a brand-new laser-cutting system that cuts and seals the edges of polyester fabrics in a single step – something a standard rotary blade simply cannot do. This eliminates the need for manual cutting, trimming, seaming and finishing in industries including fashion and apparel, interior decor, sign and display and more.
The air-cooled CO2 100W laser has a touch-free processing speed of 44m/min and as a Laser Class 1 system, requires no special safety equipment for the operator.
"The LM 100W Laser Module is a completely new piece of technology and a perfect addition to our recently renovated showroom in St Albans," says Stuart Cole, Managing Director, Zünd UK Ltd. "We're welcoming professionals from across the UK's design and manufacturing community to see its incredible capabilities in the flesh."
The laser technology is the latest module released for use with Zünd digital cutting tables, all of which are built with a modular configuration to allow tools, material handling options and modules – like the laser cutter – to be installed at any time post-installation. This further future-proofs Zünd devices, which are constructed as next-generation machines able to cope with 24-7 operation over many years.
Technology designed by Swiss family company Zünd has found a home at a number of fashion businesses, including international brands and their suppliers. Portuguese digital textile printer Blur runs a Zünd G3 L-2500 cutting system as part of its state-of-the art print and cut production workflow, providing fully completed printed fabric pieces – usually in challenging knitted fabrics – to the fast fashion industry.
"With the Zünd G3, we can now offer in-house digital cutting. This greatly benefits our customers since we can now deliver fully finished parts with only the sewing left to do," says
Mariano Dias, Founder and Owner of Blur.
"The G3 system unwinds and advances the material entirely without tension, leaving it perfectly flat for processing. Different fabrics may have different tensile properties, but with the ability to efficiently capture printed register marks, we can easily compensate for any distortions."
Similarly, USA-based Savi Customs brought its cutting processes in-house following the installation of a Zünd S3 L-1600. Its sublimated sportswear products are all made to order in San Diego and therefore Savi can label its output 'Manufactured in the USA' – as well as manage its quality and material use more effectively.
"We knew we had to get better control of the way we were doing things and looked at all our options," says Jeremy DeBoer, Manager at Savi Customs, on choosing Zünd. "But considering its ease of use, open interface for easy integration in our production workflow, not to mention its versatile, zero-emissions operation, we knew Zünd was the perfect choice for us."
Zünd systems running the LM 100W Laser Module one-pass cutting and sealing process can be seen in this video – https://www.youtube.com/watch?v=PZRK1Z7xZMM&t=13s – or at Zünd UK Ltd's showroom. To book a visit or for further information on Zünd cutting systems, please email [email protected] or call 01727 833003.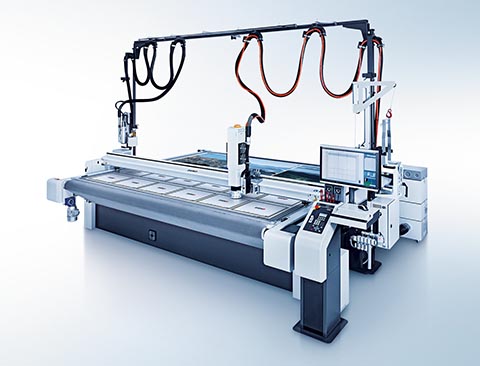 The LM 100W Laser Module is ideal for designers and manufacturers working with textiles.