swissQprint is celebrating ten years in business. Sticking to its focus on high-quality inkjet flatbed systems, the Swiss company has successively built up and strengthened its position in this segment. It now operates in 40 countries, owns three subsidiaries and counts 110 employees.
The swissQprint name surfaced out of nowhere ten years ago. Today, the brand is a byword for digital printing systems boasting high quality, huge versatility and Swiss reliability. Reto Eicher, Hansjörg Untersander and Roland Fetting laid the foundation for this success story in September 2007. A decade later in 2017, there are now 75 people working at the head office and production base in Switzerland, and 35 spread across three subsidiaries. In addition, there are sales and service partners representing swissQprint in close to 40 countries around the globe.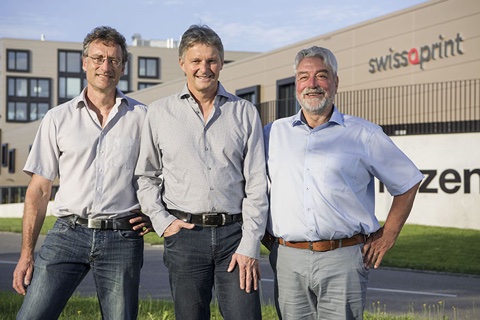 The swissQprint founders: Roland Fetting, Reto Eicher and Hansjörg Untersander
Corporate milestones
It was not the proverbial garage where business got started in 2007, but rather a corner of a large warehouse where five men set about developing a novel UV flatbed printer. They made it to market despite adverse economic conditions – first in the German-speaking world, then in other European countries and soon overseas as well, always through dealer partnerships. Buoyed by this tide of success, swissQprint expanded its production and office areas to the point where there was simply no more floor space left at the site in Widnau. In early 2015 the company finally took occupancy of newly-built premises in Kriessern.
In October of that year, swissQprint established a US subsidiary to intensify activities in the American market. A second subsidiary in Japan started business in March 2017, and a third one in Germany the following month. These are purely sales and service operations; development and production are all done at headquarters in order to maintain the leanest possible processes together with high product quality.
To date there are somewhat more than 900 swissQprint printers in the field. Certain models, specialised applications and options have earned swissQprint several industry awards over the years; last year even brought a business award.
Product milestones
From the outset to this day, swissQprint has focused exclusively on UV flatbed printers with modular design. Modularity makes the base machine configurable and extensible according to customer needs. Oryx was the first model to reach the market, celebrating its première on the margins of the 2008 drupa international trade fair. Just two years later swissQprint surprised the market with Impala, the printer that broke every then-prevailing speed record in its class. Nyala, the largest model built until that date, made its début at drupa 2012.
Another two years on, swissQprint launched a new generation of printers in the shape of the Nyala 2. The grand total of machines supplied hit the five hundred mark in February 2015, and three months later the generational transition had come full circle with the launch of Oryx 2 and Impala 2.
In early 2017 swissQprint brought to market the efficiency-enhancing 4×4 versions of Impala 2 and Nyala 2. Impala LED and Nyala LED, which cure UV inks using LED technology, premièred at Fespa 2017. Oryx LED is set to follow within the year, at which point the third generation will be similarly complete.
The three founders of the independent joint-stock company continue to play active roles in the business. They can look back with pleasure at how ten years have transformed their initial bold move. And they also look to the future, where they aim to continue pushing ahead with innovations and practical solutions that resonate with the market.