First Landa S10 Beta Press Successfully Installed at Graphica Bezalel
Rehovot, Israel - To mark the next milestone in the commercial roll-out of its Landa S10 Nanographic Printing® Press, Landa Digital Printing is hosting over 100 of the world's leading print and packaging houses at its facilities in Rehovot, Israel.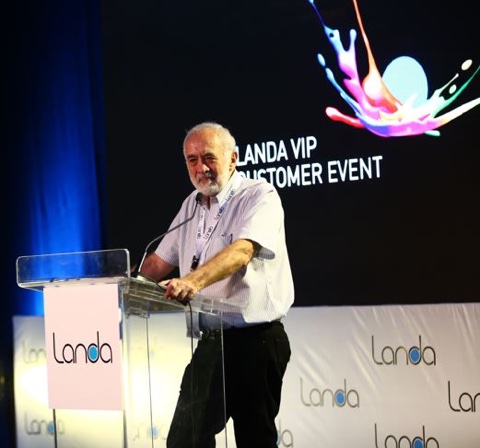 Held between 11th-14th September, customers experienced the business progress made since drupa 2016, with a tour of Landa's state-of-the-art manufacturing facilities showing Landa presses being assembled, tested and readied for shipping. Customers also had the opportunity to see for themselves the first Landa press at a production site, when they toured Graphica Bezalel, the Israel-based folding carton, packaging and label convertor that is the initial Beta site for the Landa S10 digital press.
"We are very proud to be the first business to install a Landa press and offer Nanography to the market," said Eyal Harpak, Director of Graphica Bezalel. "We've been impressed with the professional and dedicated installation team from Landa. They had the press up and running producing saleable sheets quicker than even we'd hoped for."
"Our new Landa S10 will enable our customers to do things they've never done before. It allows a truly unique degree of production flexibility that will change the way that they manage their supply chains. For us, it is a genuinely groundbreaking and unsurpassed technology, taking our business into new areas of profitability. The Landa S10 is now the focal point of our folding carton operation, and we're confident that it will be a huge success."
Graphica Bezalel received its Landa S10 Digital Press in August 2017 and is using it to support local as well as international companies including Calvin Klein, Carlsberg, Nestlé, Coca-Cola, SodaStream and others. Through its incredible color palette and medium-run digital print capability, the company's Landa S10 is expected to provide new and profitable folding carton work, with a clear point of differentiation in a crowded market.
Yishai Amir, Landa CEO, comments: "With our first beta press now successfully installed at Graphica Bezalel, we are proud to host Landa customers and prospects here in Israel – showing them the incredible results from the Landa S10 and the huge infrastructure investment we've put in place to support our growth."
"As we ramp-up production, we look forward to shipping more presses in the coming months and to making them commercially available in H2 2018."