The missing online document editing link proved the perfect marketing means to the sales end.
Aalst, Belgium – At Print 17, Marketing Ideas For Printers and CHILI publisher proudly present DesignEdit 2, an online design tool that allows customers to create and launch their design for print directly on the printers' website. The tool was developed by Marketing Ideas For Printers to provide a path for small and medium-sized printers to access the online design tools that are essential to today's print buyers, but may previously have been beyond their reach in terms of budget and web development expertise. CHILI publisher technology was injected to fuel the operative output, with the online document editor and the template collection as key elements. The DesignEdit 2 solution will be presented at the Marketing Ideas For Printers booth 351 at Print 17 in Chicago, ILL, US, CHILI publisher is on demo at the CHILI publish booth 257 throughout the show.
The core goal
MI4P holds a strong reputation in helping printers sell more printing by offering services that combine professional marketing content and the best web and print technology. Dave Hultin, President of Marketing Ideas For Printers, explains: "Printers that want to succeed today need to adapt to the way print buyers expect to buy printing. There's still a place for a brick and mortar presence, but today's print buyers expect to be able to buy printing not only in person, but also online. Sadly, the online experience all too often falls short and the print order goes elsewhere. We're excited to partner with CHILI publish. They have what it takes to create a great online experience, and our partnership with them allows us to provide the tools printers need for their customers to create a great design online, and in the same visit turn that creation into a production-ready print order."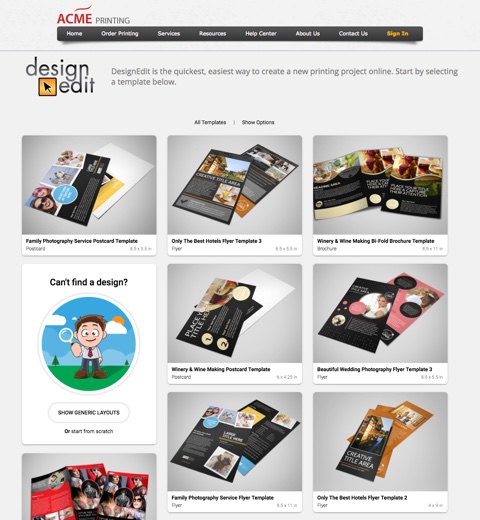 The company launched DesignEdit 2, an online tool that would help visitors to the printer's website to create a print-ready file online and launch it for print. The design could be a creative original or template based, requiring limited to none graphic skills.
The hot potato
The idea was bulletproof, but during the realization of the original DesignEdit, the core online document editor and template collection posed a problem. The online editing solutions Marketing Ideas For Printers tried were always just a few features short, or the template collection did not prove up to par. Trial and error alternated until a chance casual talk pointed them in the right direction: Graphexpo 2015 where Marketing Ideas For Printers met up with CHILI publish. A Proof of Concept was developed; one integration and two beta tests later DesignEdit 2 is ready to be introduced to the Print 17 audience. Hultin comments: "The cooperation with CHILI publisher was like a match made in heaven. The end result is the perfect combination of powerful technology and a template collection with high-end creative content. It offers a tailorable, easy-to-use interface and above all, it truly is a universal solution. Most European developed tech does not take regionality specifics into account - CHILI publisher does. There is no other all-encompassing solution like this one out there."
Beta turns alpha
The CHILI publish team is equally enthusiast about the cooperation, as Kevin Goeminne, CEO of CHILI publish, stresses: "The modern-day printer needs to find a common ground to expand the solid reputation of his brick and mortar storefront towards his online webshop. DesignEdit 2 is a wonderful transition element within the sales funnel and we're proud CHILI publisher offered the features Marketing Ideas For Printers needed to realize this game changer for printers."
Dave Hultin adds: "We had an immediate connection and integration but we did test the solution extensively among two independent beta test sites. Their feedback is very promising and confirms that DesignEdit 2 is a solution that is going to help printers sell more printing online. In fact, based on their experience I'd consider DesignEdit 2 to be a requirement for any modern-day printer."
Print 17 and the CHILI Chicago hub
As the graphic industry is rediscovering what online document editing can do for their business, CHILI publish has decided to also set up office in Chicago, aka the heart of print. Bram Verniest, COO at CHILI publish elaborates: "DesignEdit 2 is another fine example of a successful integration implementation and we feel this is just the start. So in order to be of better service to our print audience in the Greater Chicago area, we will launch the CHILI Chicago hub and set up office in Chicago." Next to running demos of the new features of the CHILI publisher solution at booth 257, the company will also be conducting job interviews for the CHILI Chicago hub. More information on the office and the job openings can be consulted at: https://www.chili-publish.com/join_the_chili_chicago_hub. Verniest concludes: "We hope visitors to our stand will come for the demo and stay for the job."
Visitors to Print 17 can book a demo for DesignEdit 2 at the Marketing Ideas For Printers booth 351 via http://on.mi4p.com/print17-meetup and/or a demo for CHILI publisher at CHILI publish booth 257 via http://www.chili-publish.com/events/print17#fndtn-register