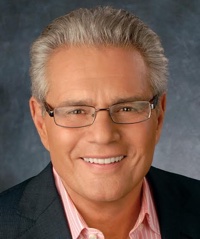 The 2016 Franklin Luminaire Committee has selected Armen Keteyian, award winning journalist, correspondent and author as the recipient of the 2016 Franklin Award for Distinguished Service – the highest honor given an individual by the graphic communications community. The coveted award has been presented for over 60 years to renowned leaders in the military, politics, business, journalism and communications, for their outstanding achievements and contributions to American society. The award, named for Benjamin Franklin, a printer by trade, will be presented to Mr. Keteyian at the annual Franklin Luminaire Awards on October 19, 2016 (5:30 – 10:00 pm) at the Lighthouse at Chelsea Piers in Manhattan. The gala is jointly presented by the PIA Graphic Communications Foundation and the Digital Enterprise Education & Research (DEER) Foundation.
Armen Keteyian is widely recognized as one of the finest journalists of his generation and a highly respected authority on the most pressing issues in the world of sport. An 11-time Emmy award winner, he is currently the lead correspondent for "60 Minutes Sports" on Showtime and a contributing correspondent for "60 Minutes". Prior to those two assignments he was the Chief Investigative Correspondent for CBS News in New York from March 2006 until November 2012.
From 2008-2010 Keteyian won three straight Emmy awards for hi reporting in the prestigious "Outstanding Investigative Journalism in a Regularly Scheduled Newscast" category for stories that aired on the CBS Evening News.
Mr. Keteyian has also written or co-written 10 books including the instant New York Times bestseller "The System," a look deep inside big-time college football. He is currently working on a biography of Tiger Woods with co-author Jeff Benedict to be published by Simon & Schuster in April 2018.
Mr. Keteyian began his career as a sports and feature writer in San Diego. A native of Michigan, he graduated cum laude in 1976 with a BA in Journalism from San Diego State where he started as an infielder on the baseball team.
"We are delighted to salute Mr. Keteyian with this prestigious honor and acknowledge his achievements in front of more than 400 prominent CEO's and senior executives from the printing, publishing, digital, advertising and graphic communications community," said Committee Co-Chair Steve Drew, Sales Executive, RR Donnelley. "The exciting evening carries on a long-standing tradition of offering close networking opportunities with new and potential clients, building professional relationships, and most importantly, investing in the education of our future workforce."
Committee Co-Chair Meghan Milkowski, President, The Hill, agreed. "Our Committee members are working diligently to make the program a spectacular gala which no one will want to miss. This is now the most prestigious awards program in what is arguably the most important visual communications market in the world. We will also salute three outstanding individuals with Luminaire Awards in recognition of their creative excellence and personal dedication as media production leaders."
The 2016 Luminaire Award Honorees are Chris Dunn, Director, Global Marketing Operations, American Express, Jerry Faust, Vice President, Print and Distribution, Time Inc. and Steve Zenger, President and CEO, Zenger Group.
Diane Romano, President & COO, Hudson Yards & Caps Visual Communications, active for many years in both awards programs, will again serve as Chair Emeritus of the Franklin Luminaire Awards. A fundraiser for students in graphic communications, proceeds from program support the next generation of media professionals, offering student scholarships through the Graphic Communications Scholarship Foundation (GCSF). Since 2010 the Franklin Luminaire Awards and two partnering Foundations have contributed over $70,000 to GCSF.
The deadline for early bird sponsorships has been extended to August 15, 2016.
Current Platinum sponsors to date include Condé Nast Publications, EarthColor, Konica Minolta, Hearst Magazines and RR Donnelley. Gold sponsors are Case Paper, Design Distributors, Dolce Printing, Inc. and Fry Communications, Inc.
To become a sponsor or register, visit http://www.pialliance.org/franklin-luminaire-event.html, download the registration form, or contact Kim Tuzzo, Printing Industries Alliance, (716) 691-3211 or [email protected].